IN mid-August last year one of Oldham RL Club's young fans, Keira Arnold of Derker, who was then aged 10, raised £210 for Dr Kershaw's Hospice by selling raffle tickets at a home game against Whitehaven.
Fans dug deep to boost 'Keira's Wishes', the fund set up by the hospice in which everything raised by Keira helps terminally ill patients fulfil their final wish.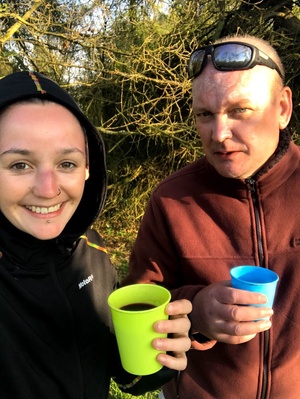 In total our little fan, now aged 11, has raised more than £13,000 for the hospice in memory of her dad, who died in the hospice when she was only four.
She holds a national volunteer fund-raising award and a special regional award which was presented to her by the mayor of Greater Manchester, Andy Burnham.
She continues to work hard on raising money for the hospice and her fund will be boosted soon by the proceeds of a sponsored walk by long-term Roughyeds fan Chris Saxon and his daughter Tora , who are aiming to complete the 177 miles of the Offa's Dyke Trail from Chepstow to Prestatyn.
It includes three hill ranges and covers a lot of tough terrain, but Chris and Tora hope to complete the trek between April 27 and May 11, with all funds raised going to Dr Kershaw's and to Keira's Wishes in particular thanks to their great regard for the "inspirational young lady from Derker."
Said Chris:
"She is truly inspirational. We chose Dr Kershaw's (to be the beneficiary of their sponsored walk) purely because of Keira's Wishes. The effort she puts into her fund-raising would be admirable in anyone, let alone in one who is so young.

"How could we not lend a helping hand to this amazing young lady."
To find out more about the sponsored walk, or to make a donation, go to www.justgiving.com/fundraising/chris-and-tora