A Warrington-based company that is steeped in Rugby League has signed a two-year deal to become newly-promoted Oldham's kit and leisurewear suppliers.
Mike Cooper, the Warrington Wolves prop, is a director and co-joint owner of 1895 Sports, whose managing director, John Welch, has been involved in the sport for 30 years and is the current chairman of Physical Disability Rugby League (PDRL).
1895 Sports is so called because that was the year northern clubs broke away from the Rugby Union to form a new body that became the Rugby Football League.
It claims, on its website, that it will supply training wear, leisurewear and playing kit that will inspire, motivate and influence its customers.
It was formed in 2014 and has been going from strength to strength since, its marketing arm benefiting from the popularity of Cooper, a high-profile Warrington Wolves and England star who has also played in the NRL with St George Illawarra.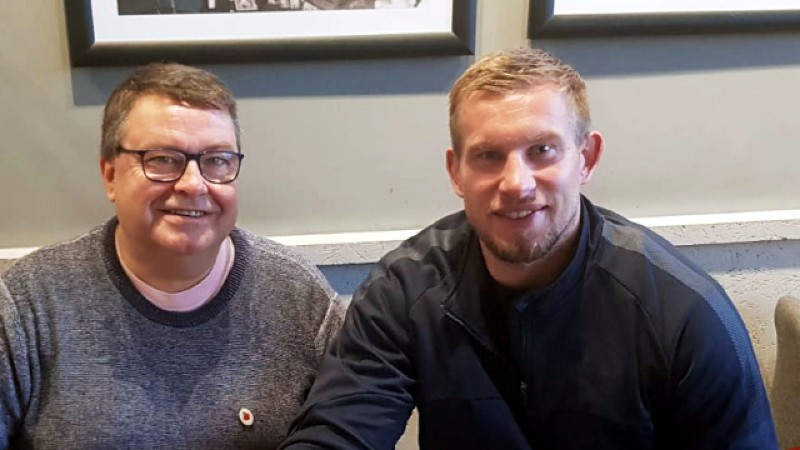 Done deal. Watched by Oldham chairman Chris Hamilton, Mike Cooper puts pen to paper on Oldham's new two-year deal with his kit manufacturing company, 1895 Sports
Oldham were put in touch with 1895 Sports by John Roddy, managing director of the Roughyeds' new main sponsors, CDX Security and a former chairman of Leigh Centurions and Swinton Lions.
"We have a good relationship with CDX Security, another company with extensive ties to Rugby League, and it was John Roddy's personal recommendation that set the ball rolling,"

said John Welch.

"We are delighted to become Roughyeds kit and replica suppliers for the next two years."
Commenting on the new link-up with 1895 Sports, Chris Hamilton said:
"We are pleased to have agreed this new deal with 1895 Sports which coincides with our promotion back to the Championship.

"We are looking to them to provide the club and its supporters with good quality merchandise and some different designs to those we have had previously.

"From what we have seen already they will be a good partner for us and we are looking forward to working with them.

"In the next couple of days we will be giving fans an opportunity to purchase a celebration tee shirt and/or polo shirt in recognition of our promotion.

"There will be other exciting announcements in the near future."
Don't forget to take advantage of the best deals on season-tickets which are Early Bird offers up to the end of November. You can save up to £57 on turnstile prices over the 13-match Championship season.