HE used to live on Watersheddings Street . . . he's played in the colours of Wigan Warriors, Leigh Centurions, London Skolars and Rochdale Hornets . . . and now he's thrilled to come 'home' and to sign a one-year deal for the club he supported as a boy.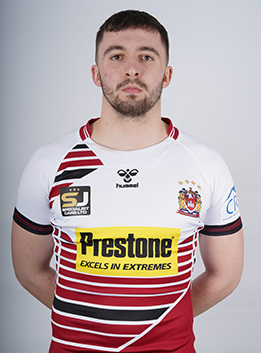 Oldham RLFC is delighted to announce the capture for 2021 of a fourth former Wigan Warriors youngster in 22-year-old James Barran, to add to the signings of his ex-Warriors colleagues Ben Holcroft (19), Max Roberts (20) and Callum Green (21). Also on the 2021 roster is another former Wigan youngster, winger John Hutchings (21), who was raised at Orrell St James, spent a few years with his home-town club and then transferred to St Helens before signing for Roughyeds a year ago.
Like these talented and fellow former 'Pie Eaters', Barren is an exciting back who has worked his way through the Wigan development system, playing at scholarship, academy and reserves levels before going out on loan to first Leigh, then Skolars and, most recently, Rochdale Hornets, who were then struggling in the 2019 Championship.
The thing that sets him apart from the other four is that he's an Oldhamer born and bred. He learned the rudiments of rugby league at Oldham St Anne's from the age of six; watched Roughyeds as a boy; and joined Wigan on scholarship when he was 13, graduating to the academy three years later.
"I even lived for a time on Watersheddings Street," said James, "but I'm up in Lees now and I'm really excited about signing for my home-town club. It will be like coming 'home' and after travelling to Wigan every day for all those years it will be fantastic to be with a club that's on my doorstep."
Away from rugby, he's in his final year of a degree course in strength and conditioning at UCLAN, the University of Central Lancashire, based in Preston.
On the field he's a robust stand-off half, who celebrated his 22nd birthday little more than a week ago.
Oldham boss Matt Diskin said:
"James is a talented kid, who needs to be playing at a higher level so as to challenge himself. He will undoubtedly add significantly to what is already a strong-looking squad with a nice mix of experience and youth — and he will provide much-needed competition for the half-backs,

"I'm really pleased to sign James and the other young lads who have come through the Wigan system and I'm looking forward to working with them in pre-season and to seeing how they go."
At the age of 19, he played for Leigh at stand-off on loan at Featherstone in October, 2018 and then, six months later, he went to London Skolars on loan with two more Wigan youngsters, Joe Brown and Craig Mullen, who was receiving rave media reports and at one time was being freely tipped to hit Shaun Wane's first-team squad.
Mullen soon moved on to Swinton Lions, but Barran played 14 games for Skolars in the early part of the 2019 season after receiving a glowing report from the London club's coach Jermaine Coleman, who, as a clever half himself, should know what he's talking about when discussing a young half-back.
Said Coleman back then:
"James is a textbook player. He can control a team and can be really aggressive as well, which I like in a half-back. I am looking forward to having him with us until the end of the season."
With Barran at No 6, Skolars won six of his first seven games there, including wins against Workington, North Wales Crusaders and Doncaster in the capital and Hunslet at the South Leeds Stadium. From mid-May to mid-June they were in second place in League One and were higher than Roughyeds, who needed a powerful surge in the second half of the season to finish second and, from there, to go on and win promotion.
The former St Anne's junior eventually got wore down by all the travelling to London and he finished the 2019 season in the Championship with Rochdale where he had three games in tier-two in a struggling side that was virtually doomed to relegation when he joined them.
His last game for Hornets — at Toronto Wolfpack in August last year — was an eventful one for the local lad. He played at stand-off in a 46-0 defeat; won the Hornets' man-of-the-match award; and got himself sin-binned for fighting.
Of the 24 players announced so far as having signed for 2021 — 11 new recruits and 13 re-signed from this year — new-boy Barran is the fourth Oldhamer, alongside club captain Gareth Owen, prop Phil Joy and back-row man Matt Fletcher, who also lives near Lees, but up on the hills.
Owen, Joy and Fletcher were all groomed in the game at Waterhead so, of the class of 2021, only Barran can fly the flag for St Anne's.
Celebration T-Shirts
Time is fast running out to order your Oldham RLFC tee-shirt which celebrates 125 years of rugby league and the part played in its formative years by our very own Joseph Platt. You can order them via the Roughyeds website, but hurry because the deadline is this Friday, November 6.