OLDHAM Rugby League Club has given fans a treat by putting on sale replicas of a 2021 home kit which is a throwback to the one the Roughyeds played in during a fabulous Second Division season more than 30 years ago.
"This has been a challenging year for everybody and we hope this kit will give all our fans a big lift,"
said chairman Chris Hamilton.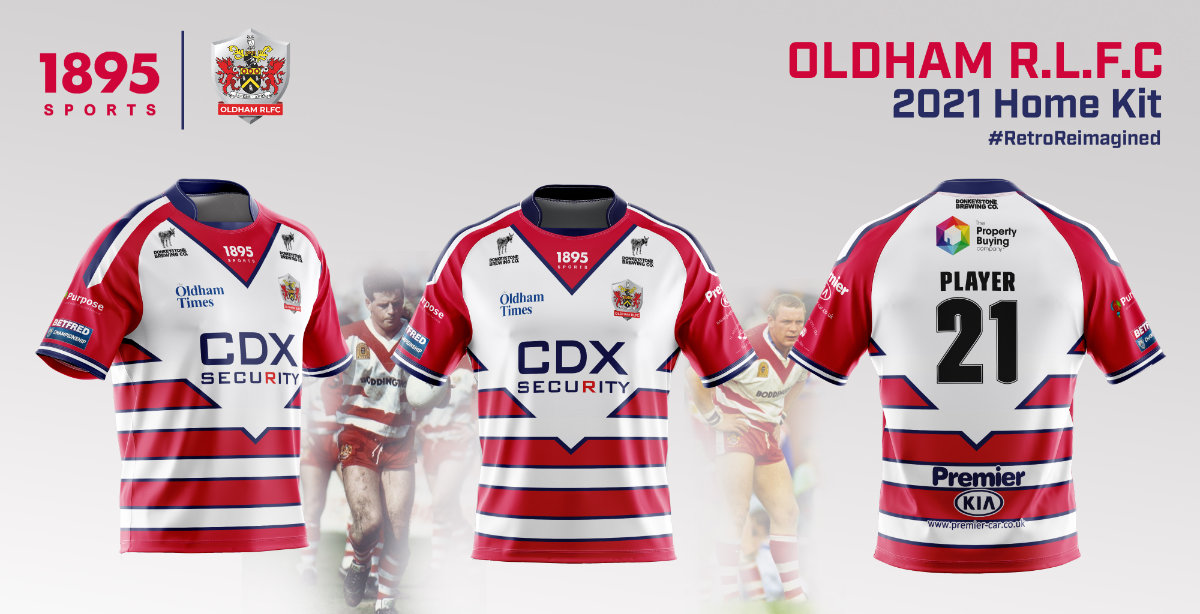 The new design is based on a shirt sponsored by brewers Boddingtons in the 1989-90 season when Oldham won 36 of their 43 games in all competitions, were promoted from the Second Division and were involved in 15 cup-ties, reaching the final of the Lancashire Cup and the semi-final of the Challenge Cup and going on to win the Second Divion premiership against Hull KR at Old Trafford, writes ROGER HALSTEAD, then the Oldham Evening Chronicle's rugby league writer and now Oldham RLFC's honorary media manager.
Cogger and Co beat big guns St Helens away and Wigan at Watersheddings en route to the Lancashire Cup final; overcame World Club champions and star-spangled Widnes away in the third round of the Challenge Cup and took Warrington to the wire in the semi-final when they were pipped 10-6 at Central Park, having a try disallowed in the last minute when winger Paul Lord was ruled offside as he chased down a Mike Ford kick to the corner.
"We did the Second Division proud,"
said the then chairman John Chadwick. And after returning to Oldham for a civic reception with the Second Division Premiership Trophy, following a 30-29 win against Hull KR at Old Trafford, coach Tony Barrow said:
"This is only the start. We are going after the big prizes now."
Helping the Barrow boys to go through the season unbowed at Watersheddings, where they conquered opponents in each of their 21 games in all competitions on home soil, were key men and crowd favourites Richard Russell, John Fieldhouse, Mike Ford, John Cogger, Leo Casey, Duncan Platt, Charlie McAlister, Andy Ruane, Des Foy, Gary Hyde, Paul Round and an emerging Tommy Martyn.
Three decades on, chairman Hamilton, who was a young accountant in the town back then, added:
"Its 125 years since Rugby League started so we felt it was appropriate to pay homage to one of the most popular kits in the old club's history.
"The 'Boddies' kit was worn by great players and great teams, playing in great games, and our new kit for 2021 encompasses the 'V' and the main design of that kit, along with modern touches."
Since the new home shirt was launched — £38 for children, £45 for adults — fans in their droves have taken to social media to express their delight at the club's decision to turn back the clock to the days when Aussie loose-forward Cogger and other basement buys like Keith Newton and Shaun Allen laid down the platform for talented backs and fans' favourites such as Paul Lord, Brett Clark, Mike Ford, Des Foy, Charlie McAlister, Richard Irving and John Henderson to run in the tries.
'Awesome', 'fantastic', 'brilliant', 'stunning', 'superb' were some of the words used to describe the new kit and one fan wrote:
"It screams out 'Oldham'".
To order in time for Christmas delivery go to the Roughyeds online store, where you will find a wide variety of Oldham RLFC merchandise.