OUR new away kit, to be worn for the first time at Batley on Saturday, provided a nostalgic trip down Memory Lane for one of our best post-war forwards, John Fieldhouse.
At the age of 58 and, in his words, "on the mend" after serious illness, John is still active in the game he loves as head coach of Widnes community club Simms Cross.
Still going strong in his 50th consecutive year as player or coach, he has a CV that includes a total of 428 club games with Warrington, Widnes, St Helens, Oldham, Halifax, South Wales and Whitehaven; seven Great Britain caps; and a man-of-the-series accolade in the three Tests against New Zealand in 1985.
Despite all that, his two seasons at Oldham  (1989-90 and 90-91) were two of the most memorable.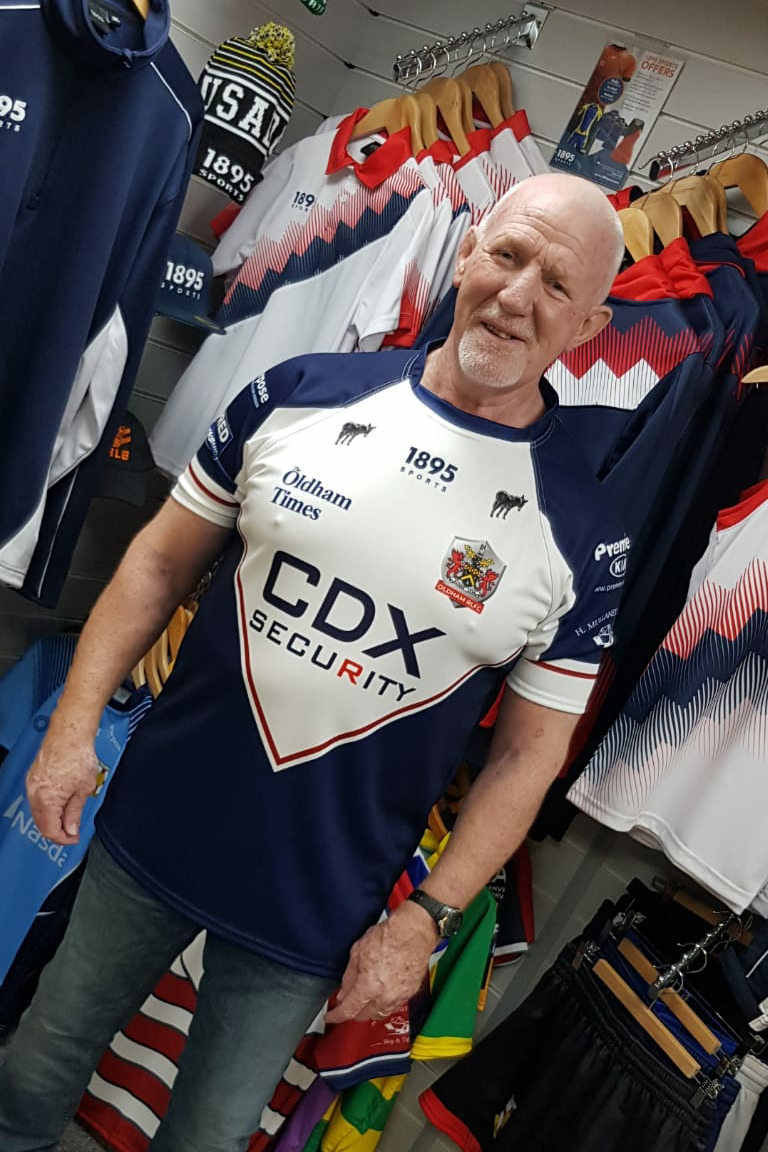 He came from St Helens in a £45,000 transfer deal and arrived at a time when Second Division Oldham were going well in the league and looked to be building for a solid First Division future under coach Tony Barrow.
Playing mainly at blind-side prop, Fieldhouse was a top man in a team of cup giant-killers that went desperately close to reaching Wembley for the first time, shocked First Division big boys Widnes, St Helens and Wigan in major cup upsets and finished it all off with an amazing fightback to beat Hull KR 30-29 in the Second Division Premiership Final at Old Trafford.
They were 29-6 down at one stage but hit back to win by one point, sealed when a teenaged Tommy Martyn, off the bench, went in for the winner and then did two or three cartwheels in celebration.
The blue and white away shirts Oldham wore with pride in the Theatre of Dreams formed the basis of the design for this year's away shirts, manufactured by Warrington-based 1895 Sports.
The company's managing director John Welch, chairman of Physical Disability Rugby League  (PDRL) knows Fieldhouse well and invited our hero to drop into their showroom to model the new shirt and at the same time bring back a treasure trove of memories.
Fieldhouse lined up at Old Trafford in this team: Platt; Irving, Hyde, Henderson, Lord; Clark, Ford; Casey, Ruane, Fieldhouse, Round, McAlister, Russell. Subs: Newton, Martyn.
He recalled:
"What a day that was ! For much of the game we were down and out. Then we hit the straps, got a roll on and won it with that cracking try by Tommy Martyn.

"Then came his cartwheels. A star was born that day, no danger. I was chuffed for his family. I had played alongside Tommy's dad in my Warrington days. He was also a fantastic player, but a forward. He was my mentor.

"To see his lad, still a kid, playing with so much style and confidence on a big stage like a final at Old Trafford gave me goose bumps. It was just a fantastic day for everyone from Oldham."
Promotion followed, but coach Barrow and his team found it tough going at the higher level and with only five wins out of their first 16 league game, the man who had guided Roughyeds to awesome success the year before got the sack.
Fieldhouse, pushed by Barrow, got the job on a caretaker basis and turned things round. Out of the ten remaining league games, he won five as well as steering his side to the Challenge Cup semi-final.
Wigan won it 30-16 at Burnden Park, Bolton, but armed with eight wins from 14 games in cup and league , Fieldhouse let it be known he wanted the job on a more permanent basis.
Aussie Peter Tonks got it and it wasn't long before Fieldhouse was on his way to Halifax for a fee of £25,000.
Said John;
"That's rugby league for you. I was disappointed at the time, but when the Oldham door closed, the Halifax door opened and I set out on a new chapter in my rugby career.

"After 50 years as player and coach, I can honestly say I've loved every minute. I've never seen it as a job, more a labour of love.

"I'm still loving it, coaching at Simms Cross and doing anything that comes my way at pro level. For instance, I was delighted to accept Chris Hamilton's invitation to do summarising on Our League alongside Dave Parkinson .

"I loved it – just as I liked going to 1895 Sports for John to put on this new away shirt and to bring back so many memories.

"I'm on the mend with my health issues and I feel good. I needed a liver transplant, but I would like to make it clear that it had nothing to do with alcoholic intake. I don't drink.

"Some months before, at the start of the first lockdown, I had a knee reconstruction. I put it down to the side effects of that. It certainly had nothing to do with drinking."
---
---