---
---
SEVEN-TRY Widnes Vikings produced another 'hot' performance at Bower Fold to win 40-18 on the day spectators returned to the Stalybridge venue for the first time in 15 months.
The men from Merseyside are through to the AB Sundecks 1895 Cup semi-final at Featherstone next week and they geared up for that with an impressive performance against Matt Diskin's men.
They won the toss and chose to play down the slope first, taking advantage of some early Roughyeds mistakes to go 6-0 in front as early as the seventh minute with a try by left-wing Jay Hatton, which Steve Tyrer goaled off the touchline.
Before that, Liam Kirk was dangerous when he broke clear up the middle, but he had no one on his shoulder and his pass fell straight into the hands of Joseph Lyons.
The first of Danny Craven's two 40-20s in the first half drove Oldham back, but the home side's defensive work was spot-on.
When they worked their way to the other end, Dave Hewitt's short pass to full-back Dan Abram sent Abram over, but the joy of home supporters turned to groans when referee Jack Smith refused the try and gave Widnes a penalty for obstruction.
Widnes then increased their lead when Danny Craven and Jack Owens sent in Steve Tyrer for a try which Tyer converted for a 12-0 lead.
Further tries by Deon Cross and Owens gave the Vikings a 22-0 lead and on a day of soaring temperatures Roughyeds had a mountain to climb.
They gave themselves a glimmer of hope when Dec Gregory made a stunning break from dummy half. He went clear up the middle and looked for support as defenders closed in. Realising there wasn't any, he swung off to the right before sending a high, overhead ball that fell into the hands of on-loan centre Louis Senior, who finished off impressively in the corner.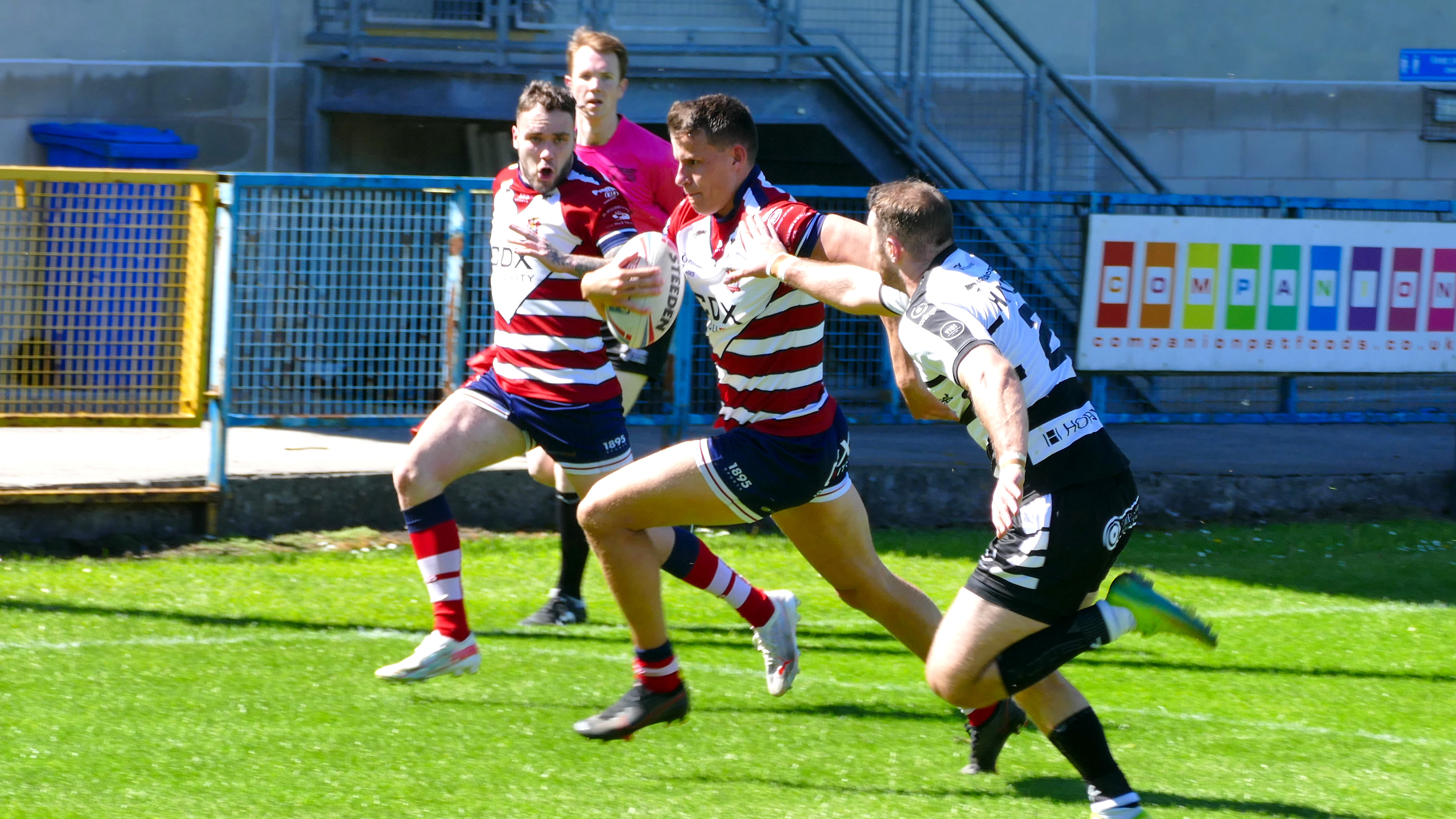 Dan Abram's touchline conversion made it 22-6 at the interval when players of both sides took a well-earned break on a scorching-hot day.
Oldham needed to score first going down the slope in the second half. They had an opportunity territorially, but the ball went to ground and Widnes increased their lead on their first venture into Oldham territory after half time when scrum-half Joe Lyons kicked into space under the Oldham posts and Owens scored.
The visitors scored again four minutes later as Danny Bridge limped off.
Nothing was going right for Roughyeds, who fell 34-6 behind when Craven, Lyons and Owens fashioned a second try for Cross, which Tyrer converted from wide out.
After that, a Danny Langtree interception created a try for Tommy Brierley; Jake Spedding scored a long-range effort for Widnes; and finally, on the hooter, Danny Langtree went in after quick passing right to left by Gareth Owen and Dave Hewitt.
Scorers:
Oldham — goals, Abram 3/3; tries, Senior, Brierley, Langtree; Widnes — goals, Tyrer 6/7; tries, Hatton, Tyrer, Cross (2), Owens (2), Spedding.
OLDHAM: Abram; Brierley, Senior, Roberts, Ince; Charnock, Hewitt; Nelmes, Owen, Kirk, Bridge, Langtree, Bent. Subs: Gregory, Pick, Dupree, Reilly.
WIDNES: Owens; Cross, Spedding, Tyrer, Hatton; Craven, Lyons; Cook, O'Neill, Baker, Grady, Lawton, Smith. Subs: Clough, Farnworth, Tilleke, Else.
Referee: Jack Smith; HT: 6-22; Pens: 7-7.
---
Oldham RLFC wishes to thank fans for their patience and for their co-operation in working with the club on all the social-distancing measures that were in place at today's game.
It was a first for the club too — and chairman Chris Hamilton and Ground Safety Officer Phil Black wish it to be placed on record how much they appreciated supporters' co-operation.
---