---
---
WE kicked off and the ball went straight into touch on the full. That was the start of another mistake-riddled afternoon which helped Dewsbury Rams to win 18-4 at Bower Fold.
Lots of players made lots of handling errors, but the two costly ones led directly to Rams tries for winger Andy Gabriel in the 13th minute and centre Will Oakes midway through the second half.
Roughyeds tried hard, desperately hard and you had only to watch Tyler Dupree and Matty Fletcher leading the charge down the slope early in the second half to see how much the game meant to the home side.
Sadly, the harder everyone tried the more mistakes they made and it was Oldham's catalogue of fumbles and lost possession, plus Dewsbury's ability to capitalise, that was the only difference between two well-matched teams.
When Gabriel got his chance on lost Oldham ball, he took it with aplomb, first reacting like greased lightning and then showing great speed to cross in the corner.
Earlier, veteran half-back Paul Sykes's superb handling skills had put in Davey Dixon for a try and he converted both tries from wide out and on opposite sides of the field to give Rams a 12-0 interval lead.
Dewsbury's defence was first class and, try as they might, with Gareth Owen at half-back and Lewis Charnock at hooker, Roughyeds couldn't turn pressure into points.
There was nothing lacking, however, in the side's effort, determination and desire and that was evident, among other things, in the way Dupree and Fletcher worked their socks off in a bid to get Roughyeds back in the game.
They succeeded too, Dupree picking up a stray Oldham pass to stroll past veteran Liam Finn and then hold off full-back Matt Fleming to score the try that fans thought might spark a home revival.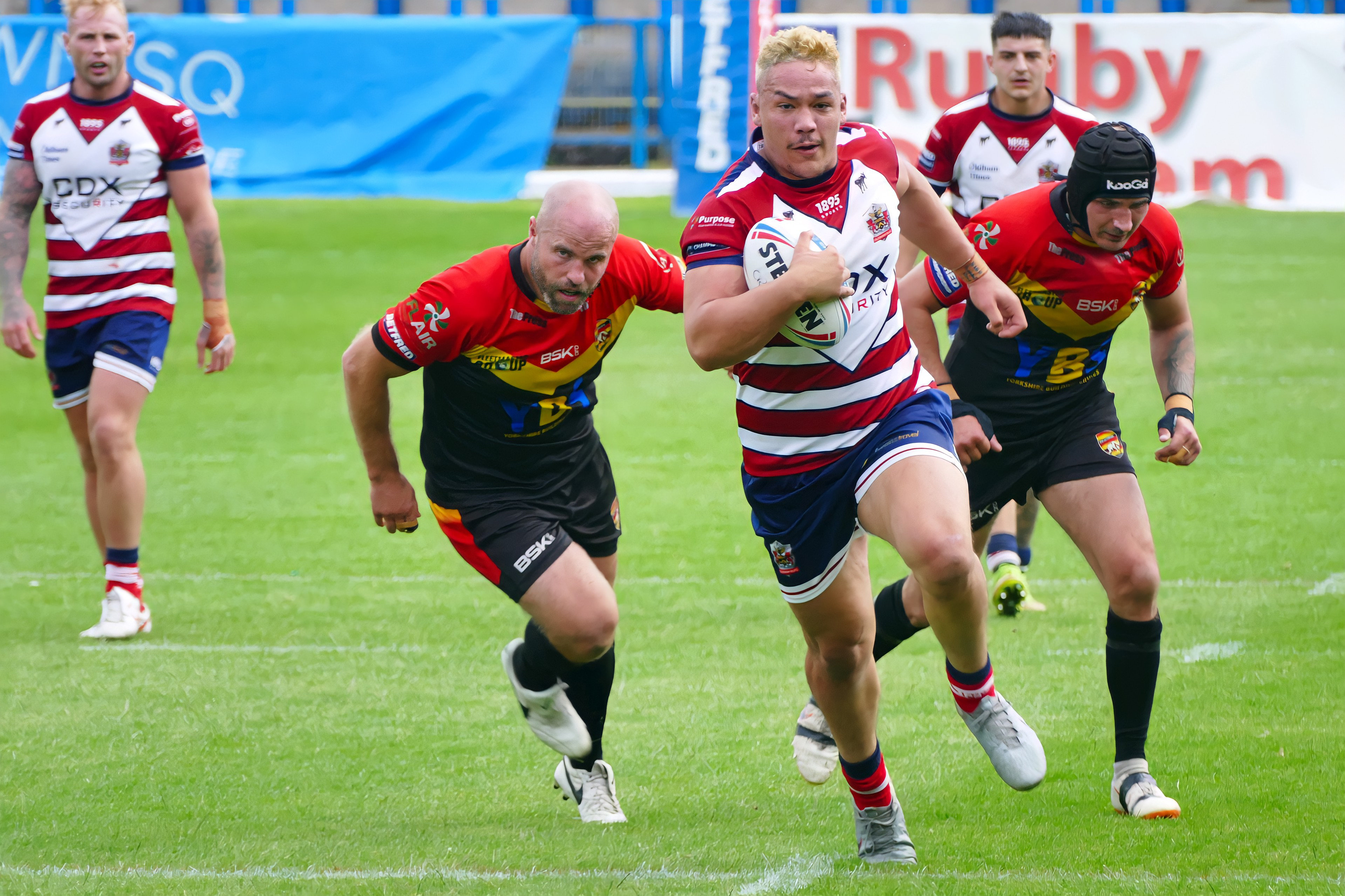 Not for the first time this season, though, as soon as we had scored we erred on a twisting, teasing restart kick by Dewsbury's other veteran, Sykes.
We held them in the next set, then lost the ball again and Oakes used his great strength and his pumping legs to get to the line and touch down in a two-man tackle.
Sykes made it three out of three with the kick and at 18-4 down we were in serious trouble.
To add to our woes, Dec Gregory had gone off injured and then Liam Kirk took a head knock which forced his departure.
Scorers: Oldham - try, Dupree; Dewsbury - goals, Sykes 3/3; tries, Dixon, Gabriel, Oakes.
OLDHAM: Green; Brierley, Ince, Roberts, Holcroft; Owen, Barran; Nelmes. Charnock, Kirk, Bent, Langtree, Reilly. Subs: Gregory, Fletcher, Dupree, Pick.
DEWSBURY: Fleming; Gabriel, Oakes, Dixon, Carr; Sykes, Finn; Margrin, Butterworth, Beckett, Liu, Knowles, Annakin. Subs: Speakman, Martin, Stevens, Hall.
Ref: Matt Rossleigh; Pens: 3-7.