---
---
BY growing into the game and playing much better in the last 25 minutes than in the first 55, we scored 22 late points against high-flying Bradford Bulls at Bower Fold.
It finished 54-22 in Bradford's favour and although we were out-gunned, out-played and hardly seemed to touch the ball in the first half, we produced plenty of spirit and honest endeavour in the last quarter of the game, even though it was won and lost by then, to score tries by Ben Holcroft, Martyn Reilly, Dan Abram and Tyler Dupree.
Bradford, who won the toss and elected to play down the Bower Fold slope, were quick off the blocks when we failed to hold a towering kick by Joe Keyes and Bulls winger David Foggin-Johnston scored in the corner.
It was the first of many occasions that on-loan half-back Keyes either kicked us to death, ran through our struggling defence or displayed his many and varied skills as a replacement for long-term injury victim Danny Brough.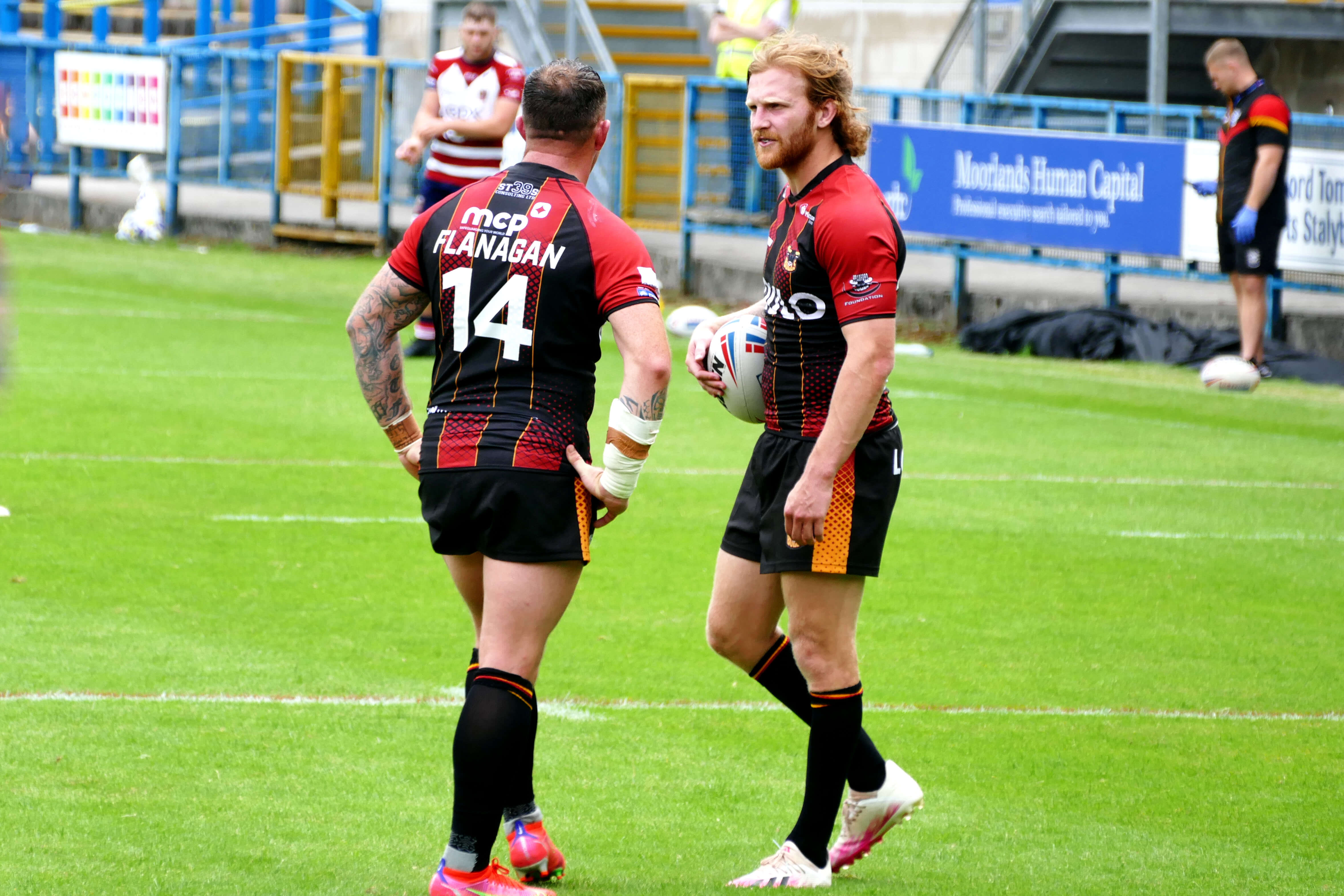 All told, he scored 30 points on his own — nine goals from ten shots and a hat-trick of tries when taking time off from putting others through gaps or subjecting Joe Hartley and Dan Abram to a barrage of bombs.
Bradford's cause was made much easier because, once again, we made far too many handling errors which helped the Bulls to set up base camp in the Oldham half and enjoy a monopoly of possession.
The first of the Keyes tries in the 16th minute gave the visitors a 12-0 lead as the Bulls threatened to score every time they hit our 20-metre zone.
Full-back Brendon Pickersgill, another lively attacker, crossed for a third Bradford try wide out before Keyes added a fourth and kicked a penalty goal for a 26-0 interval lead.
Early second-half tries by Keyes again and by his half-back partner, Joe Brown, pushed the visitors out to 36-0, whereupon we started to come more into our own.
We had already lost hooker and skipper Gareth Owen with a back injury; Tyler Dupree had to leave the field for running repairs ;and both Liam Kirk and Danny Bridge had their heads bandaged up.
At one stage , Kirk had to leave the field to change his blood-smattered shirt, while a tackle on Dupree was placed on report by referee Bradley Milligan.
Near the end of the game, Bulls hooker Thomas Doyle was sin-binned for a challenge that laid out Joe Hartley.
Nevertheless, in the last 25 minutes we hit back to score tries by Ben Holcroft, Martyn Reilly, Dan Abram and Dupree, three of them converted by full-back Abram to give the score a much more respectable look.
Holcroft went in at the corner after ball movement to the left featuring Langtree and Max Roberts.
Then Pickersgill dropped a high kick by Charnock to show it can happen to the best and Oldham capitalised when Reilly crashed over on a flat pass under the posts from Jamie Abram.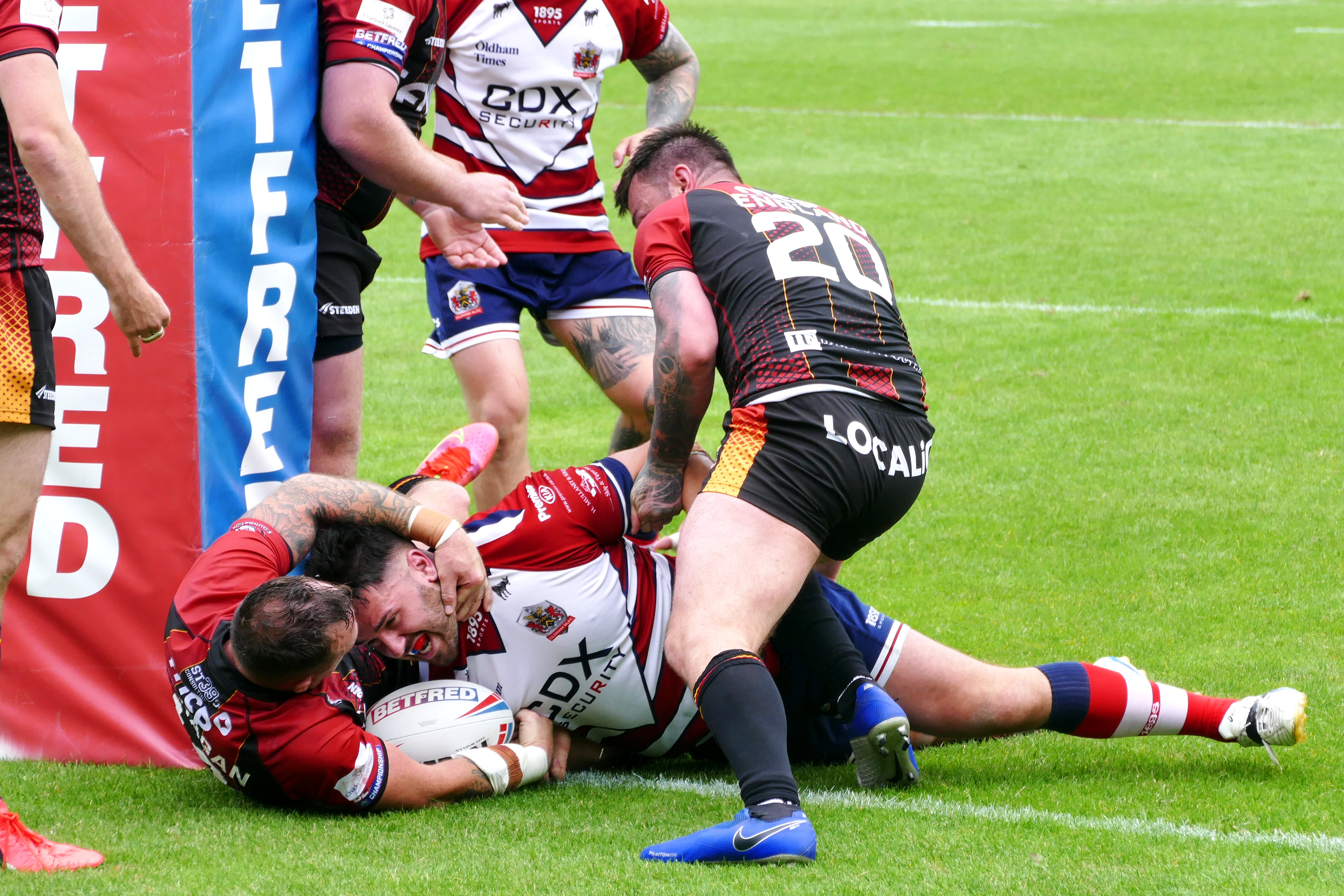 Centre Rhys Evans went in for Bradford's seventh try and they added two more from Pickersgill and England before Roughyeds finished off with Dan Abram going over thanks to Charnock's little kick and then Dupree finally crashing in after a strong break by Reilly.
Dupree and Reilly were in strong form for Roughyeds in this our first game since we enlisted the renowned Brian McDermott as coaching consultant.
He summed up like this:
"Their half-backs exposed some of the things we have been working on in a tough day for Oldham supporters,

"But I saw a lot of commitment and unity, which is a good position from which to start".
Scorers:
Oldham — goals D Abram 3/4, tries: Holcroft, Reilly, D Abram, Dupree;
Bradford — goals, Keyes 9/10; tries, Foggin-Johnston, Keyes (3), Pickersgill (2), Brown, R Evans, England.
OLDHAM: D Abram; Hartley, Ince, Roberts, Holcroft; Charnock, Barran; Reilly, Owen, Kirk, Pick, Langtree, Bent. Subs: J Abram, Nelmes, Dupree, Bridge.
BULLS: Pickersgill; Hamlett, Rhys Evans, Oakes, Foggin-Johnston; Brown, Keyes; Fleming, Doyle, Crossley, England, Murphy, Evans; Subs: Flanagan, Scurr, Walker, Rooks.
Referee: Bradley Millington