---
---
GIVING their all and fighting fire with fire, Oldham came desperately close to winning both league points at Whitehaven yesterday before going down 28-24.
We led 24-16 early in the second half and with Tyler Dupree and Luke Nelmes leading the charge at that stage, we looked the better team, on top in the forwards, and well capable of going on to win.
It didn't work out that way in the end, unfortunately, but one or two close decisions went against us, especially a 40-20 kick which looked close, but good, but wasn't given after referee and touch-judge had a consultation.
That came in the last few minutes with the Cumbrians 28-24 ahead, but we also went desperately close to stretching our lead when we already led 24-16.
Dupree, a real handful for the home defence, looked as though he might have scored a second try, but he was denied by inches.
Another try then, and with Dan Abram in great kicking form, would probably have done it, but credit Whitehaven with the determination and self-belief to pick themselves off the floor midway through the second half on a day when soaring temperatures and bright sunshine sapped the energy and tested fitness levels.
Both sides did extremely well to conquer the conditions and to provide a high-energy, furiously-fought battle that provided great entertainment with the result wide open until the final hooter.
Brian McDermott brought back winger Tom Brierley and half-back Dave Hewitt after injury, but Hewitt lasted only half an hour before he was replaced by Jamie Abram, who went to hooker with Lewis Charnock moving to partner James Barran in the halves.
We were also in the wars in the second half when full-back Dan Abram went off injured, Brierley moved to full-back and we ended up with Jamie Abram on the right wing.
Despite all these setbacks, Roughyeds gave Haven the fright of their lives and there was no concealing the Cumbrian side's sheer relief at the end !
We were leading 24-22 when the hard-working Danny Bridge, having his best game for weeks, intercepted on our line and raced away into the clear only to be recalled for offside.
No argument with the decision, but it was another indication of how a game can swing one way or the other on decisions involving such narrow margins.
It all began with a great try-saving tackle by Dan Abram on home winger Andrew Bulman.
Not only did he stop Bulman in full flight with a one-on-one tackle, but he also took the ball off him to end the danger.
Danny Langtree made a down-the-middle break that came to nothing before we took the lead in the 15th minute when Hewitt kicked high, Max Roberts palmed the ball back and Bridge went through to give Hewitt the try with an inside ball. Abram kicked the angled goal.
A few minutes later, 'Haven replied. In the early stages of the game, their French halfback Louis Jouffret was moving the ball around with great effect, particularly attacking well down our left side.
He had the knack of delivering the right pass at the right time and he put a lot of pressure on us, which paid dividends when Greg McNally joined the line and delivered a cut-out pass which enabled Bulman to finish off spectacularly in the corner. Jouffret's kick swung well wide. Not for the first time this season, we then presented the home side with a 'soft' try as the direct result of an unforced individual error.
Jesse Joe Parker picked up the dropped ball and he found Callum Phillips on his inside. The hooker went under the posts unopposed and Jouffret goaled for a 10-6 lead.
Haven then made it three tries inside ten minutes with another 'soft' try when Phillips went in from dummy half to expose goal-line defence that wasn't at its best. Joufrett's goal made it 16-6.
Undeterred, we came again just before half-time when Dan Abram joined the line, spotted space, and chipped ahead to follow up and get the touchdown. He kicked the goal too to make it 16-12 at which point, and on the last play of the first half, Jouffret again worked his magic to give right-centre Chris Taylor a gap through which he soared with great aplomb.
He ran wide of Dan Abram and looked a certain scorer, only to infringe as he put the ball down.
What a let-off that was ! No doubt it was a talking point in both dressing rooms at half-time and Oldham perhaps used it as a great positive given the way they came out of the blocks at the start of the second half.
This was the Roughyeds' best period, with Nelmes and Dupree looking particularly 'up for it' after Joufrett's restart kick for the new half flew into touch on the full.
Barran's penalty found a good touch; Roberts produced a strong run; and with Haven on the back foot and looking vulnerable, Nelmes took the ball in and found Dupree on the burst and close to the line. There was no stopping the big fella from that distance. Abram goaled and we led 18-16.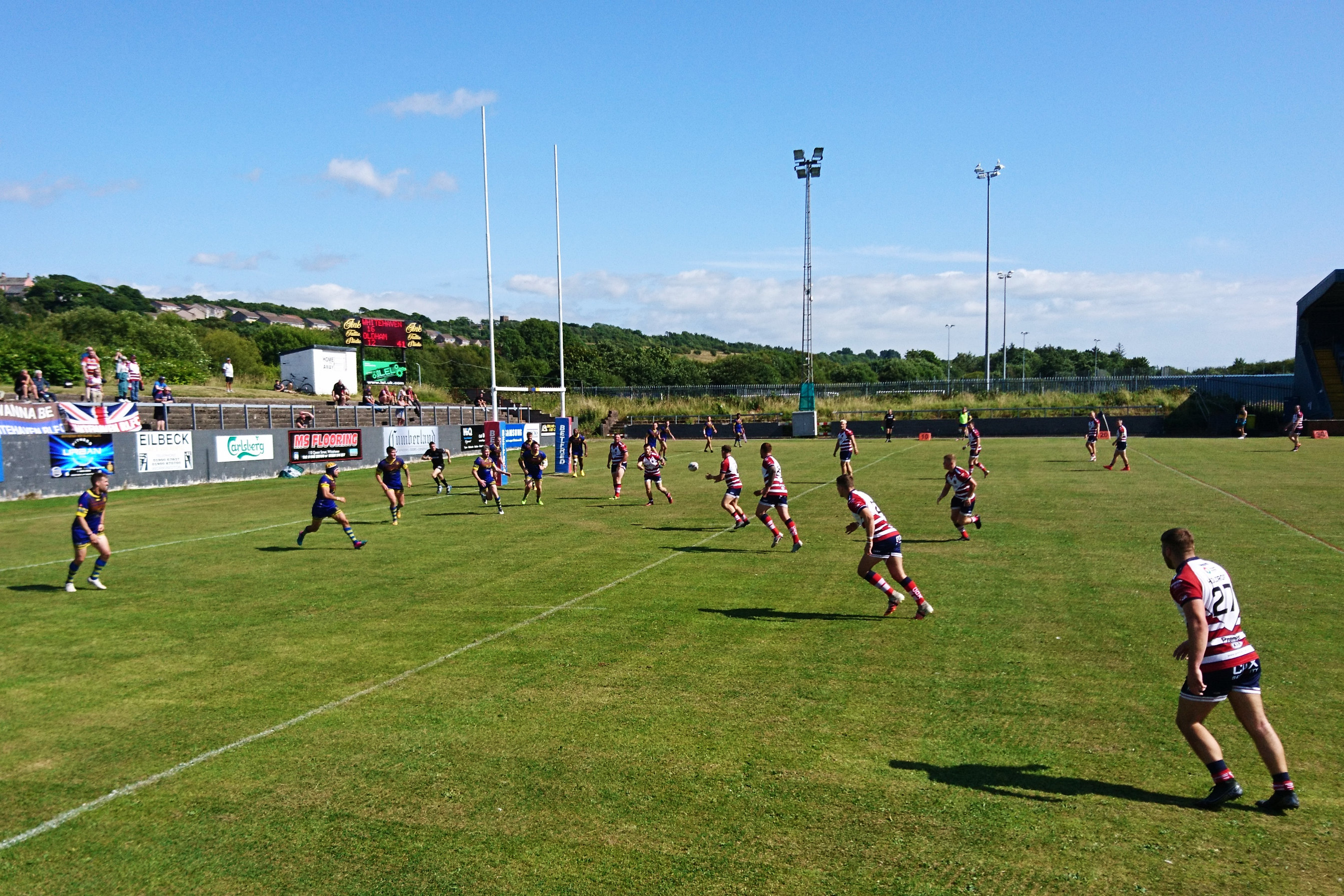 Roughyeds, gaining in confidence and self-belief, stretched their lead when Dupree again went close.
The lively Jamie Abram, who had caused the home side loads of trouble with his breaks from dummy half, delivered a good service this time and Charnock sent the rampaging Nelmes crashing over. Abram goaled again. We were 24-16 up and it was looking good.
All the momentum was with us and the heavyweight home forwards were starting to look jaded, frustrated and there for the taking.
The momentum swung, however, on yet another lost ball and on the back of that you have to credit Haven for somehow summoning the strength and mental toughness, in that heat, to fight back with the ferocity they did.
A series of offloads created space for Jouffret, who was outstanding with his creativity in the first half, but relatively quiet in the second half.
In this instance, though, he went through the gap, found Connor Holliday on his shoulder, and then took the forward's return pass to go behind the posts. He added the goal and the gap was cut to two points. The momentum was now with the Cumbrians, who snatched the lead with the winning try by Tom Wilkinson with quarter of an hour to go. It was another example of our sometimes-dodgy goal-line defence because Wilkinson looked well held on the line in a three-man tackle.
He was standing up and looked well held, but somehow he was allowed to get the ball down — yet another 'soft' try and not one that deserved to settle this humdinger of a game.
Even at 28-24 down we were far from finished. There was the 40/20 that wasn't and then we forced a drop out in which the bounce of the ball — should it have been allowed to bounce? — went straight back to the Cumbrians.
The game ended with a skirmish in which Dupree and the home side's Aussie forward Ryan King were sin-binned for fighting.
There was no doubting, though, that Roughyeds had continued their improvements and that, if they continue to play like this in their remaining eight games anything can still happen in the fight for Championship survival.
Scorers:
Whitehaven – goals, Jouffret 4/5; tries, Bulman, Phillips (2), Jouffret, Wilkinson;
Oldham – goals, D Abram 4/4; tries, Hewitt, D Abram, Dupree, Nelmes.
Whitehaven: McNally; Parker, Taylor, Mossop, Bulman; Dixon, Jouffret; Shackley, Phillips, Walker, Holliday, Gillam, Wilkinson. Suns: Cooper, Aiye, King, Dawson.
Oldham: D Abram; Brierley, Ince, Roberts, Holcroft; Charnock, Hewitt; Kirk, Barran, Reilly, Langtree, Bridge, Bent. Subs: Nelmes, Dupree, Pick, J Abram. Referee: A Moore.