---
---
THE long-awaited derby against Swinton Lions at Heywood Road ran true to form.
Two clubs that, historically, have been very similar in strength and structure over the last few years played out a 22-22 draw that was a thrilling affair for both sets of fans.
In the previous ten games between the two clubs currently occupying the bottom two places in the Betfred Championship — going back to 2015 — Roughyeds won five and the Lions won five with scores as close as 26-24 to Oldham and, at the 2016 Summer Bash in Blackpool, 25-24 to Swinton.
On aggregate over the last 11 games, Oldham have scored 222 points and Swinton 239 so in that respect there was every likelihood of another close one.
It was that all right. We dominated the first half with two superb long-range tries by Tyler Dupree, whom the Lions forwards couldn't handle.
Dan Abram, who also had an impressive game, converted both and we looked good value for money at 12-0 up going into half-time.
We started brightly and opened up the Lions pretty easily down the middle, but a couple of chances were thrown away and then we lost Liam Kirk with a head injury. He went off, never to return.
There were some significant changes in the team with Joe Hartley in the back division at centre, no Dave Hewitt at half-back, Danny Bridge at loose-forward, Jamie Abram starting at hooker; Lloyd Roby and Liam Bent on the bench.
We looked good, defending well when we had to on our own goal line and looking lively with ball in hand. We looked even better when Tyler Dupree received from Danny Bridge, found some space and raced away to score with Dan Abram kicking the goal.
Soon afterwards the hard-working Bridge got over the Lions line, only to be recalled for a forward pass.
When Swinton responded, Lewis Hatton and Martyn Ridyard threatened down out right-hand side, but the hurried, final pass was a poor one which winger Mike Butt couldn't collect.
We increased our lead on the half hour when the strong-running Dupree produced an encore to burst through the Swinton line, hit top speed and then brush off home full-back Geronimo Doyle to score a second solo try that singled out Dupree as the outstanding forward on the field.
Leading 12-0 at half-time, we went in looking good value for money with Bridge impressing in the middle and Dan Abram showing up well in the backs.
We had dominated the first half, but Swinton upped their game and that, coupled with the loss of Dupree with a sore ankle, allowed the Lions to grow in confidence and start to make big inroads through our midfield defence with Sam Brooks, Lewis Hatton and Nick Gregson starting to own the midfield and providing Ridyard with the armoury and the territorial advantage with which to provide his outside backs with good ball.
In the first half he was restricted in the main to putting boot to ball, but now he was spraying out the passes and the Lions were starting to come good.
It was no surprise when Hatton scored from close range on a last-tackle flat pass from Luke Waterworth at dummy half, Ridyard adding the easy goal to reduce our lead to 12-6.
The home side began to play with a lot more confidence and flair, even in their own half, and Dan Abram was called upon to make a try-saving tackle on Gregson near half-way.
New-boy Roby had come off the bench before half-time to operate alongside Max Roberts on the left, with Pick in the middle, and when he got a chance on a wide ball to attack up the outside,Roby went well and scored in the corner.
Abram's kick off the touchline was off target, but we led 16-6 and looked capable of re-establishing our dominance.
It didn't happen. Hatton crashed in for his second try and Gregson goaled and it was game on.
Dupree came back on, and then Pick, but the Lions continued to threaten, especially when Gregson and Rhodri Lloyd found space on left side only to see winger Meadows fumble Lloyd's quick pass to the wing.
With a reminder of something similar at Whitehaven, Ridyard kicked high and 'flat', giving colleagues time to challenge for the ball and putting Oldham defenders in two minds as to whether to go for the ball.
Thery opted to let it bounce and, just as it did at Whitehaven, it fell into home hands and they scored in the corner by Mike Butt, Ridyard kicking the goal off the touchline for an 18-16 home lead.
Roughyeds went close again when Martyn Reilly almost Dupree in for his hat-trick from close range. The big fella got over the line in a multiple tackle, but referee Gareth Hewer waa on the spot and he ruled 'held up'.
Soon afterwards, James Barran spotted space behind the Lions defensive line, chipped ahead and followed up to score. Abram's goal restored our four-point lead at 22-18 with only 12 minutes to go.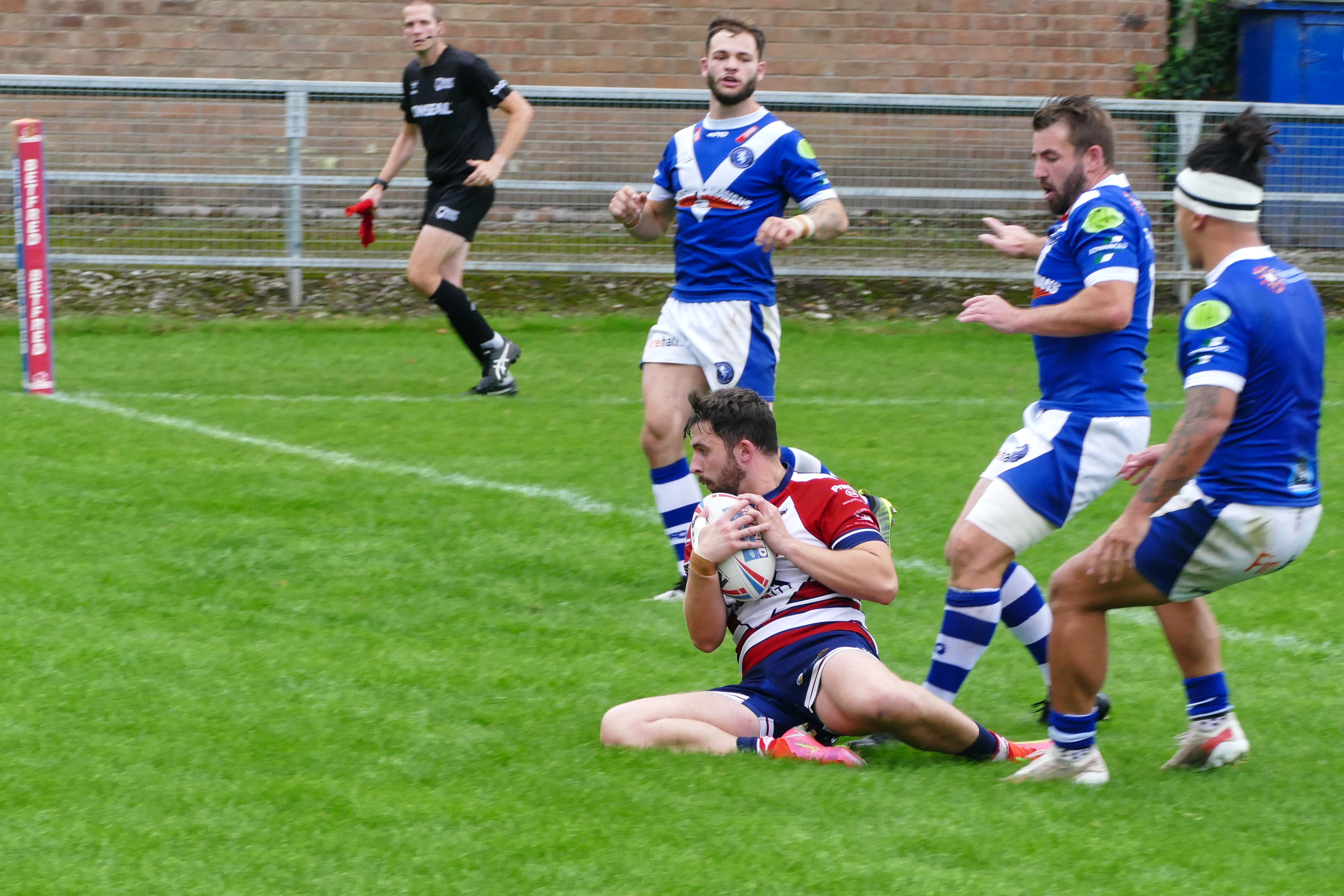 A penalty in our favour should have kept us in the ascendancy with the clock running down, but on the first tackle from the tap, the robust Lions forced the error and we were again on the b ak foot.
This time Gregson caught us out with a chip close to our line and with a Swinton try looming Dupree took out an opponent off the ball and got sin-binned for a professional foul.
It saved a try, but it meant we were down to 12 men for the last few minutes when the Lions were going for the jugular. They continued to move the ball from wing to wing with Ridyard now pulling all the strings and Kiwi full-back Doyle dangerous when joining the attack.
There were only two minutes left when right-wing Meadows cut back inside off his right leg to score the equalising try. Ridyard's conversion would have put Swinton in front, but he narrowly put it wide.
We immediately got down to the other end where we forced the error on Hatton. He lost the ball in the tackle and Reilly picked up to head off to the line, but the referee ruled knock-on by Hatton and gave Oldham vital possession in the last few seconds.
The players knew what was needed nd they worked the ball back to Barran in centre field, but his well-struck drop-goal attempt went long, high – and just wide.
It thus ended 22-22 before news came through that Dewsbury had lost narrowly at Whitehaven.
From our point of view, a point gained. We battle on.
Scorers Swinton — goals, Ridyard 2/3, Gregson 1/1; tries, Hatton (2), Butt, Meadows;
Oldham — goals, D Abram 3/4; tries, Dupree (2), Roby, Barran.
SWINTON: Doyle; Buckley, Cox, Lloyd, Butt; Ridyard, Hansen; Jones, Waterworth, Harron, Gregson, Brogan, Hope. Subs: Brooks, Michael, Nash, Meadows.
OLDHAM: D Abram; Brierley, Hartley, Roberts, Ince; Charnock, Barran; Dupree, J Abram, Kirk, Langtree, Pick, Bridge. Subs: Roby, Reilly, Bent, Nelmes. 
Referee: G Hewer; HT, 0-12; Pens, 8-9.