England Rugby League players Oliver Gildart, Stefan Ratchford, Ben Currie and former captain Jamie Peacock have featured as part of "Pride in the Community", Ronseal's initiative designed to give back to grassroots Rugby League communities.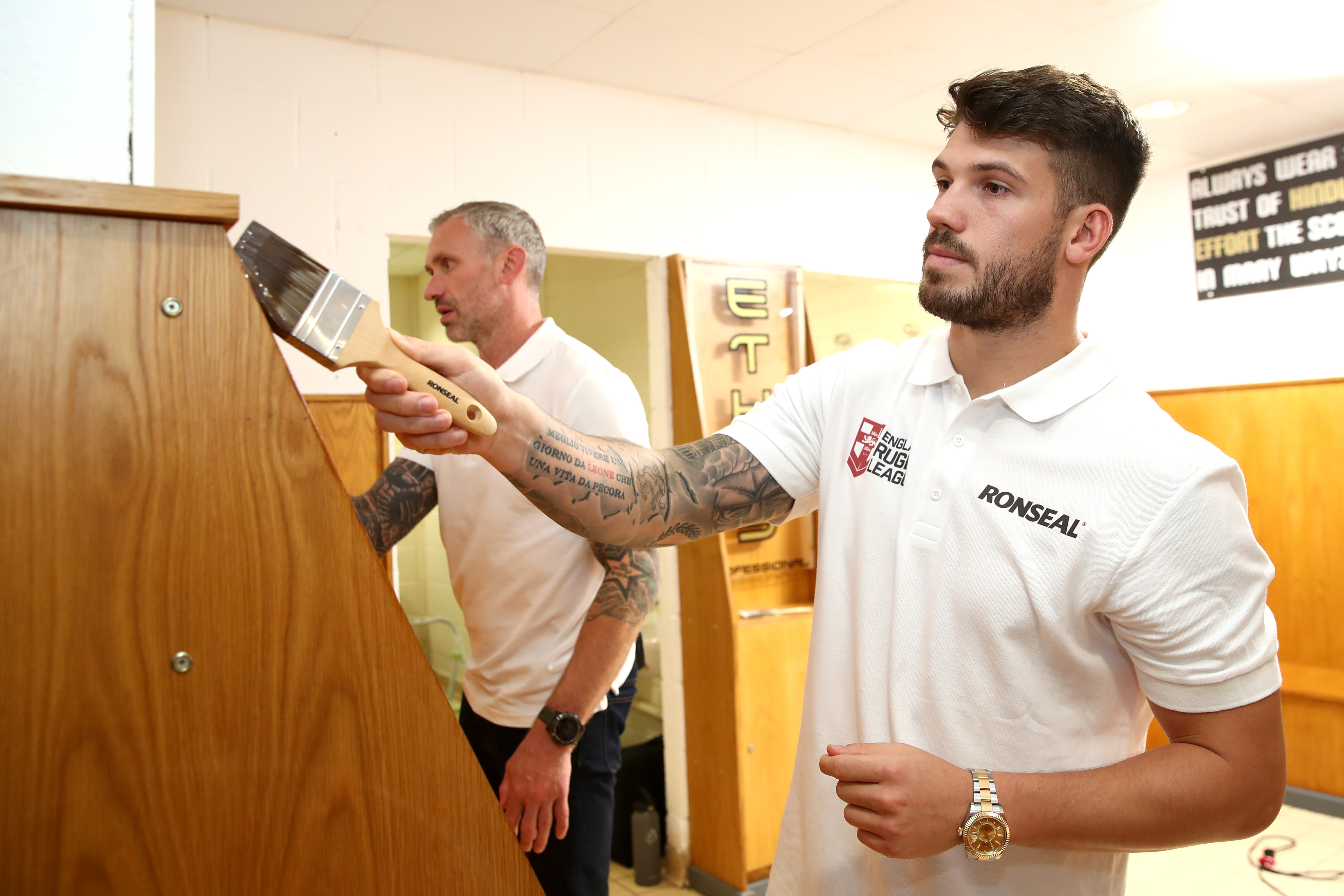 Ron-seal, the UK & Ireland's premier woodcare brand, launched "Pride in the Community" as part of its partnership with the Rugby Football League (RFL). The initiative supports grassroots clubs with a day of DIY to improve their changing rooms, club houses and dugouts.
Yesterday, the initiative began with the England players attending Hindley ARLFC in Wigan and providing DIY services to enhance the club's facilities. The day was even more special for Gildart who returned to Hindley, the town where he was born, giving him the opportunity to pay the community back.
Once the makeover of the club was complete, the players stepped out onto the pitch to demonstrate some of their kicking skills in front of more than a hundred onlooking children from the local area who cheered on their heroes.
The Rugby Football League announced a four-year deal with Ronseal in July 2018, the woodcare brand's first foray into sports sponsorship. The deal sees the brand feature on the playing shirts of the England Men's, Women's, Knights, Wheelchair, Academy and Youth squads until the end of this year.
Jimmy Englezos, Senior Product Manager at Ronseal UK, said:
"It has been fantastic to see the "Pride in the Community" initiative come to life and further our goal of giving back to grassroots communities and growing the sport. The partnership with the RFL promotes our core values of performance, durability and integrity, and gives us an opportunity to give back to our RFL fans too."
Bobby Bahadori, RFL Head of Partnerships, added:
"Our values align perfectly with Ronseal and we are both committed to protecting grassroots Rugby League. I am delighted to see the positivity this partnership has brought to Hindley ARLFC and the community, and I think it will provide a real springboard for growth of our beloved sport in the region for years to come."
Oliver Gildart, England Rugby League player, says:
"Having been proudly born in Hindley, the town will always hold a special place in my heart. It has been great to come back to Hindley today as part of Ronseal's incredible initiative and give back to the grassroots community."
Ronseal provide a premium and wide-ranging selection of products to help you get a professional looking finish on your next DIY project. It 'Does exactly what it says on the tin', so you can do exactly what you want to your home.