ROUGHYEDS are delighted to announce the signing of Welsh centre Calvin Wellington, who has been variously described as "a prodigious talent", "a freak athlete" and a player with "talent in abundance."
Originally from Port Talbot, he came north to St Helens in 2015 with Regan Grace, his winger at that time in a Welsh junior rugby union side, Aberavon Quins.
"We went up to Saints together. Regan was my winger at Aberavon. We've known each other since we were kids,"
said Calvin, now aged 25, living in city-centre Manchester and eagerly looking forward to his time at Oldham.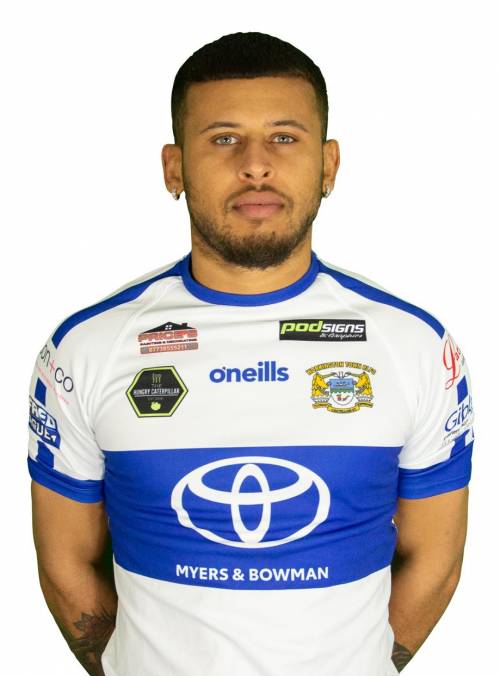 While Grace has gone on to become a Saints and a Super League superstar, his pal and his centre from their days in the Valleys still dreams, according to one website biography, of following his ex-team mate back to the top.
They played on the same flank together at Aberavon and in the Saints' academy and under-19s teams but when Wellington made his Saints senior debut against Huddersfield Giants in May, 2016, on Magic Weekend in Newcastle, he played right centre inside Jack Owens.
However, the green, green grass of home still had a pull for the young Welshman and when regional South Wales RU club, the Dragons, came knocking in November, 2017 he moved back to Wales on contract.
Sadly, injuries restricted him to only two senior appearances in two years, both in the Anglo-Welsh Cup, the first at Saracens in January, 2018.
Dragons head coach Bernard Jackman said at the time:
"I have friends in rugby league, whose opinion I trust, and they tipped me off about Calvin's ability. He brings pace, power and footwork.

"I feel it worthwhile to negotiate his release from St Helens so that we can get him into our environment immediately and get him upskilled into the technical and tactical aspects that are so important in our game.

"He is a freak of an athlete. It's rare to get someone who is so powerful and elastic with great footwork."
Two years later, after injuries, he was released to pursue other opportunities.
Said Calvin:
"I prefer League, there's a lot more involvement. Things didn't work out for me at Dragons because of injuries and opportunity knocked for me at Workington Town so I went up there.

"It was great to be back in League and eventually to be part of the Town team that won promotion at the end of last season, but a lot of my time in Cumbria was affected by Covid.

"I feel I'm still finding my feet in League and I want to improve and learn as much as I can. One of the things that attracted me to Oldham was the opportunity to be coached by an ex-player who used to be a top centre.

"If Stu Littler can't show me how to be a good centre, who can ?

"The other attraction was a logistical one. I'm living now with my partner Leah, an Irish girl, in Manchester and studying for a law degree at the Open University.

"Workington wanted me to go up to the Championship with them and had offered me a new deal for 2022, but in the circumstances my decision to opt for the Roughyeds was a no-brainer.

"I know I'll be a division lower than Town, but it would be nice to win two promotions in two years !"
During the last few years he's been on trial at Salford Red Devils, had a short spell with Sale RU Club, and been out on loan from Saints to Sheffield Eagles with Liam Cooper and Jonah Cunningham.
In September, 2020 Ottawa Aces announced they had signed him for 2021, but when that Canadian venture went wrong he returned to Workington.
Stu Littler said:
"Calvin is an exciting signing and I'm looking forward to working with him. Things are looking good as far as our squad-building exercise is going. We still need a few more and I'm expecting another announcement over the weekend."