UNDERBANK prop Dominic (or Dom) Newton spent three years in the Academy at Huddersfield Giants and later rejected other offers to turn pro, but the opportunity to play alongside his rugby mates Luke Nelmes, Owen Restall and Jordan Andrade at Roughyeds was too good to turn down.
The big front-rower, aged 28, thus becomes one of several former Newsome Panthers products to take his place in Stu Littler's new-look squad at Oldham and we are delighted to announce his capture as the 19th signing we have made for 2022 since Joe Hartley kicked off our squad-building exercise on October 9.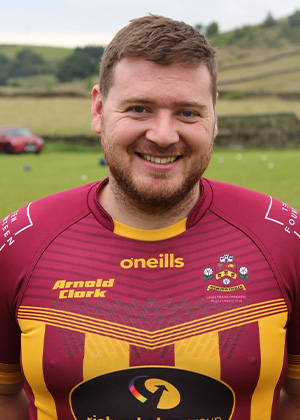 Of those 19, no fewer than 11 are Yorkshiremen, so there should be no shortage of Red Rose/White Rose banter in the Roughyeds' dressing room !
Said Stuart:
"Like Owen Restall, Dom is coming from a good amateur background, having been first at Newsome and then at Underbank under Owen's captaincy. He is also a good mate of a few of our other lads.

"He's had offers in the past (to turn pro), but he has a good career in design engineering and he didn't feel the time was right. He does now.

"I've had a good chat with him, and about what it's all about to play at our level, and he's more than happy to take up the challenge and back himself.

"He knows he's got a lot ahead of him to make the transition and he's happy to put his best foot forward so hopefully we can take him on a journey that will be both successful and enjoyable."
Dom started at Newsome as a small boy — "On the wing, like most kids starting out" — and was there until well into his teens, working his way through the system alongside Nelmes, Restall and Andrade.
He was in the Academy at Huddersfield for three years before going back to Newsome where he graduated through the various levels until he was made captain of the first team.
Restall returned to Newsome after university and when he switched to Underbank, Newton followed him. He has been at Underbank for three years.
Said Dom:
"I can't wait to start at Oldham. It's a step-up for me and it's something I've wanted for a while, so it's good to get the opportunity. Nelmesey spoke highly of the club and of the chairman and convinced me it would be a good move.

"I've enjoyed my time at Underbank, but if I'm going to progress my game – it's the little things that make all the difference – now is the time to do it.

"Oldham are rebuilding and in many ways having a fresh start and it will be good to be part of that, while at the same time testing myself at League One level."
Married to Vicky, an Irish girl, and with a small daughter, Orla, Dom is a design engineer based in Hull, though much of his work is done from home.
He is the fifth prop in the squad, the "middles" consisting of Nelmes, Jack Coventry, youngster David Mills, Andrade and Newton.
Not counting 18-year-old Mills, the average age of the other four is 28 or, as Luke Nelmes puts it, "just hitting our peak."
You can expect another signing, our 20th, by weekend.