EMMERSON Whittel is back from Australia . . . back living in Queensbury between Halifax and Bradford . . . and back at the Roughyeds in Stu Littler's new-look squad.
After two years Down Under, playing first for Rockingham Sharks in a suburb of Perth and then for Cairns Brothers in Far North Queensland on the other side of that vast country, he and his partner Chloe arrived back in England on Friday.
They are currently living with Chloe's parents while they look for jobs and possibly a home of their own, but Emmerson's immediate rugby league future is secure at Oldham.
He has signed a one-year deal, thus returning to the club he represented 24 times out of a possible 26 (nine starts and 15 subs) in the League One promotion season of 2019.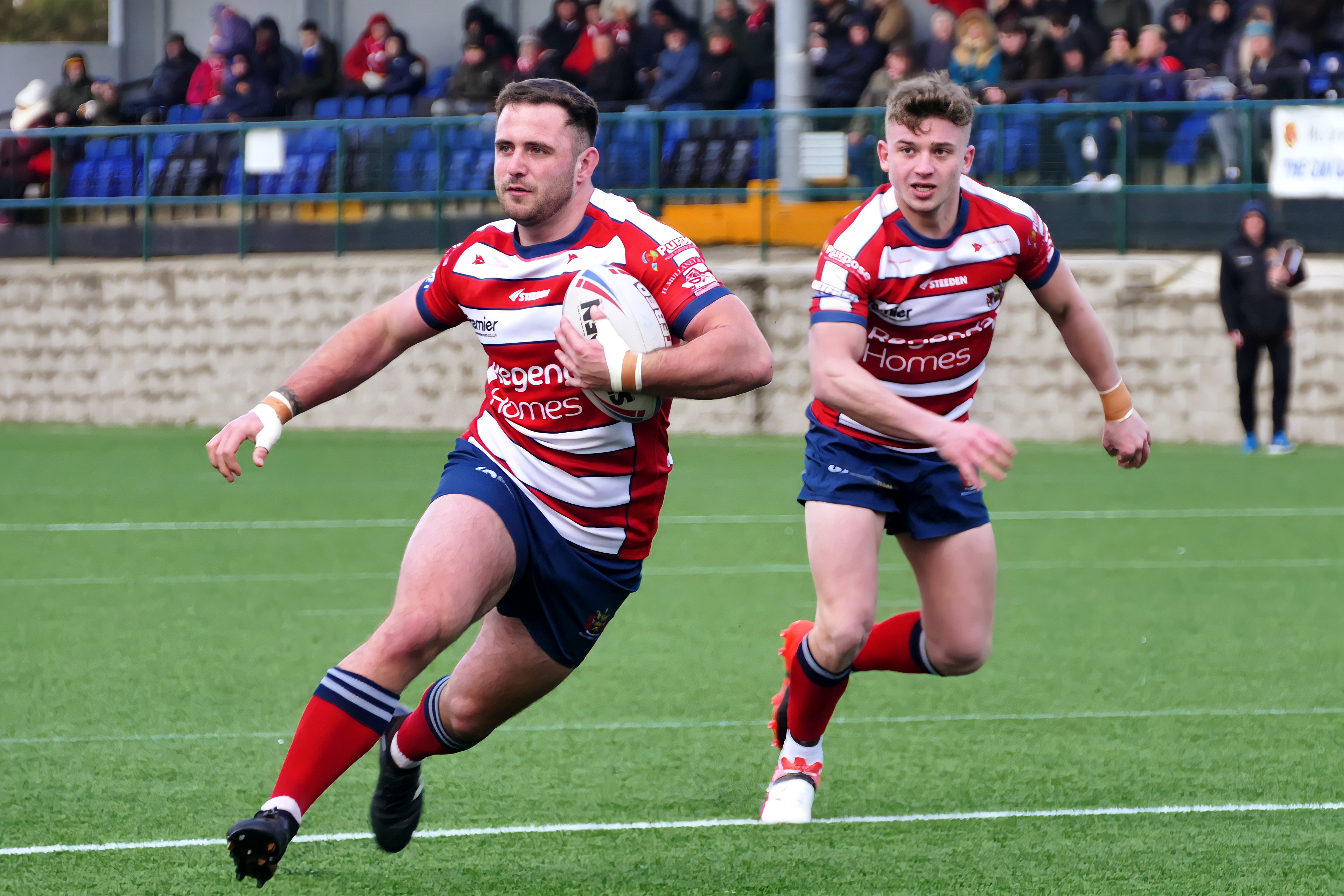 Only ever-present prop Scott Law and hooker/captain Gareth Owen, one game behind, made more appearances that season than Whittel, who will never forget the dramatic Promotion Final against Newcastle Thunder, in which he made a telling contribution off the bench.
Of that side, only he and half-back Dave Hewitt will be at the club in 2022.
Whittel rejected a new Oldham offer after the Promotion Final to pursue his dream of playing in Australia, but he said then that he might be back one day.
He said at the time:
"Chris offered me a good deal to stay and to play in the Championship, but at my age (then 25, now 27) it could be my last chance to fulfil a dream to play Down Under and to see a bit of the world at the same time.

"I've long wanted to do this, like a lot of lads with no ties, and when I got an offer from Rockingham I felt it was too good an opportunity to miss.

"I can't predict the future or say for certain how long we'll be out there, but initially I've applied for a 12-month working visa and we'll see what happens from there.

"In some ways I'm gutted to be leaving Oldham, but I'm also excited by the thought of going to Australia.

"I might be back (at Oldham) one day, though, and if that happens no one will be happier than me."
Of his 24 appearances in 2019, there were 18 wins, including 11 out of the last 12 and play-off wins against Doncaster and finally Newcastle in the successful pursuit of promotion and Championship rugby.
While Whittel has been away, we've had Matt Diskin and Brian McDermott here and the top team job now falls to Stu Littler, who says he is delighted to get the globe-trotting Yorkshireman on board.
Said Stu:
"Chris (Hamilton) has worked hard on this one. Emmerson's work rate made him a stand-out player in the promotion year. He was tough, aggressive and he'll take us forward as a team.

"He's been playing at a very good standard in Australia, so his game will probably have developed a bit too in the last two years.

"He's another who is coming for the right reasons. He shares our vision for the club and what we are trying to do and I'm really looking forward to working with him."
The two sets of parents were shocked and thrilled when Emmerson and Chloe turned up on their doorsteps on Friday completely unannounced.
"They were taken aback that's for sure," said Emmerson. "We hadn't said a word about coming home and those I had spoken to on the phone from Australia, like Chris and one or two others, were sworn to secrecy. We wanted to see our parents' faces when we knocked on their doors and we were standing there when they opened up.

"It's been an amazing experience. When we left Perth to go to Cairns way up in Far North Queensland it took us three weeks to drive from coast to coast. What an amazing trip that was !

"When we had made up our minds to come home, I messaged Chris and we took it from there."
Rugby-wise, the trip couldn't have gone better for Emmerson, who played in every Rockingham game in 2020. They reached their Grand Final only to lose in extra time. He played for 105 minutes.
Over in Cairns, he played in 17 out of 18 games in 2021. They won the league easily (by something like ten points), but were knocked out of the play-offs in the semi-final.
He was also pleased to be rated 18th out of the top 100 players in the Cairns District League.
He added:
"It's been a good three years — promotion with Roughyeds in 2019, beaten extra-time Grand Finalists with Rockingham in 2020 and Minor Premiership winners with Cairns in 2021.

"Over the two years in Australia I've played prop, second-row and loose-forward. I prefer the back three, but I can play 'middles' if I have to, as I did a few times at Oldham in 2019."
On the strength of his performances for Cairns, he received an offer to join Northern Pride, a higher-standard club that has provided the NRL with a lot of players and acts as a direct feeder-club to North Queensland Cowboys.
Said Emmerson:
"I was chuffed by that, but home was already calling and we had made the decision to come back.

"I was also talking to two or three other English clubs, one of them in the Championship, but I really enjoyed my time at Oldham in 2019 and Chris is good to talk to — you can have a laugh with him and that makes a big difference — so I was delighted to sign for Roughyeds again.

"I'm hoping we'll be up there pushing for promotion again. I'd love nothing better than to do it again for Oldham, just like we did in 2019."