It is with deep sorrow and regret that we pass on the sad news that Oldham's former wing or full-back Geoff Sims died on Christmas Day.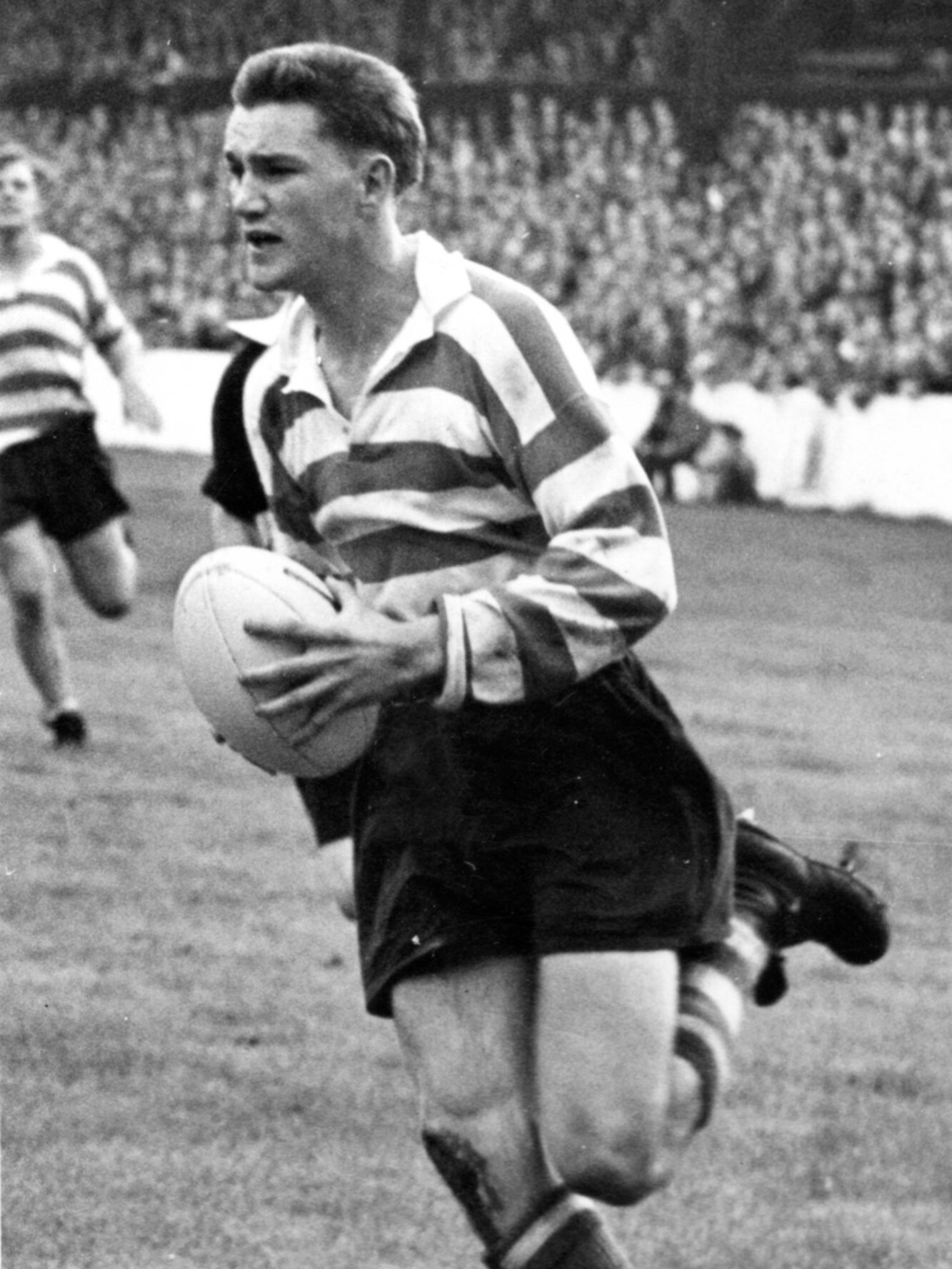 The news was given to Joe Warburton, secretary of the Players' Association, by Geoff's next door neighbour in Leigh, Steve Littler, who also played for Roughyeds as a young pro some years ago.
The record book shows that Geoff Sims, a neat and tidy utility back, arrived at Watersheddings from Leigh Colts about a year after Oldham's magnificent win against Hull in the Championship Final of 1957 at Odsal.
Lots of the big-name stars of that famous fifties side were still at the club, but despite the level of competition Geoff made a first-team spot his own, appearing in 204 senior games between 1958 and 1966, mainly at full-back or on the wing but occasionally at centre too.
As a winger, his cool, calculated and classical partnership with his centre, best mate and fellow Leigh lad Vinny Nestor, had at times to be seen to be believed.
They played together with a sixth sense of what they were doing and what was to come next. It was almost telepathic, such was the understanding between them.
Also an accomplished goalkicker (though he once told me he would never pretend to be another Bernard Ganley, the best marksman in the world back then), Geoff kicked 211 goals for Oldham to go with his 59 tries.
He made a try-scoring debut on the right wing outside Alan Davies in a 30-4 win against Wakefield at Watersheddings in September, 1958.
But his best remembered touchdown came in that never-to-be-forgotten Challenge Cup semi-final of 1964 against Hull KR, which went to three games.
Playing on the wing outside John Donovan, he scored one of the three tries in the first replay at Station Road which, with Frank Dyson's four goals, put Roughyeds into a 17-14 extra-time lead before referee Dennis Davies abandoned the tie due to bad light.
It was Cumbrian forward Geoff Robinson's try in extra time that knocked the stuffing out of the Robins, but it was Oldham who were flattened mentally when the match official called a halt shortly after the Robinson try.
Having been rescued in the first instance by Len McIntyre's last-minute drop goal in the initial 5-5 draw at Headingley, Oldham were well beaten 12-2 when the sides met for a third time at Fartown.
Rovers boss Colin Hutton, whose failed last-minute goal at Odsal for Hull seven years earlier denied the Airlie Birds and saw Oldham celebrating a Championship triumph, was man enough for several years after that Station Road thriller to admit that he was the only coach in Rugby League history to take his side to Wembley after they had been beaten in a semi-final.
Those were great days for Oldham and Geoff Sims will forever be a huge part of them.
The sincere condolences of all at the club are extended to his wife, family and friends. When we have more information in the New Year we'll bring it to you.
Mike Ratu snr
Sadness at Rochdale too. Former Hornets winger Mike Ratu snr. has died. He was very ill over Christmas and hospital staff put him into a coma.
Tony Pratt, who runs the Hornets Ex-Players' Assn, said:
"With his smile and happy nature, Mike spread sunshine and laughter wherever he went".
Fijian Mike snr., the first Ratu to play for Rochdale, signed for Hornets in 1965 after a spell in the British Army.
— ROGER HALSTEAD