MARTYN Ridyard has been appointed Oldham RLFC's club captain for the forthcoming 2022 season with Luke Nelmes as vice-captain.
Two more players, still unidentified, are to be named soon to form a four-man Roughyeds' squad leadership group.
Ahead of the new season, which starts with a friendly against Wakefield Trinity at the Vestacare Stadium on Saturday, January 22 (6pm kick-off), Oldham RLFC is delighted to announce the leadership appointments.
Fans will be surprised to learn that 35-year-old Ridyard, stand-off and play-maker, will be a club captain for the first time in his long and illustrious career with Leigh Centurions (two spells), Huddersfield Giants, Featherstone Rovers and Swinton Lions, for whom Welsh centre or second-row Rhodri Lloyd was skipper.
Ridyard is no stranger to occasional captaincy roles, club vice-captaincy and membership of leadership groups, but he is delighted to become club captain of new-look Roughyeds in a squad that currently numbers 24, of which 17 are new signings.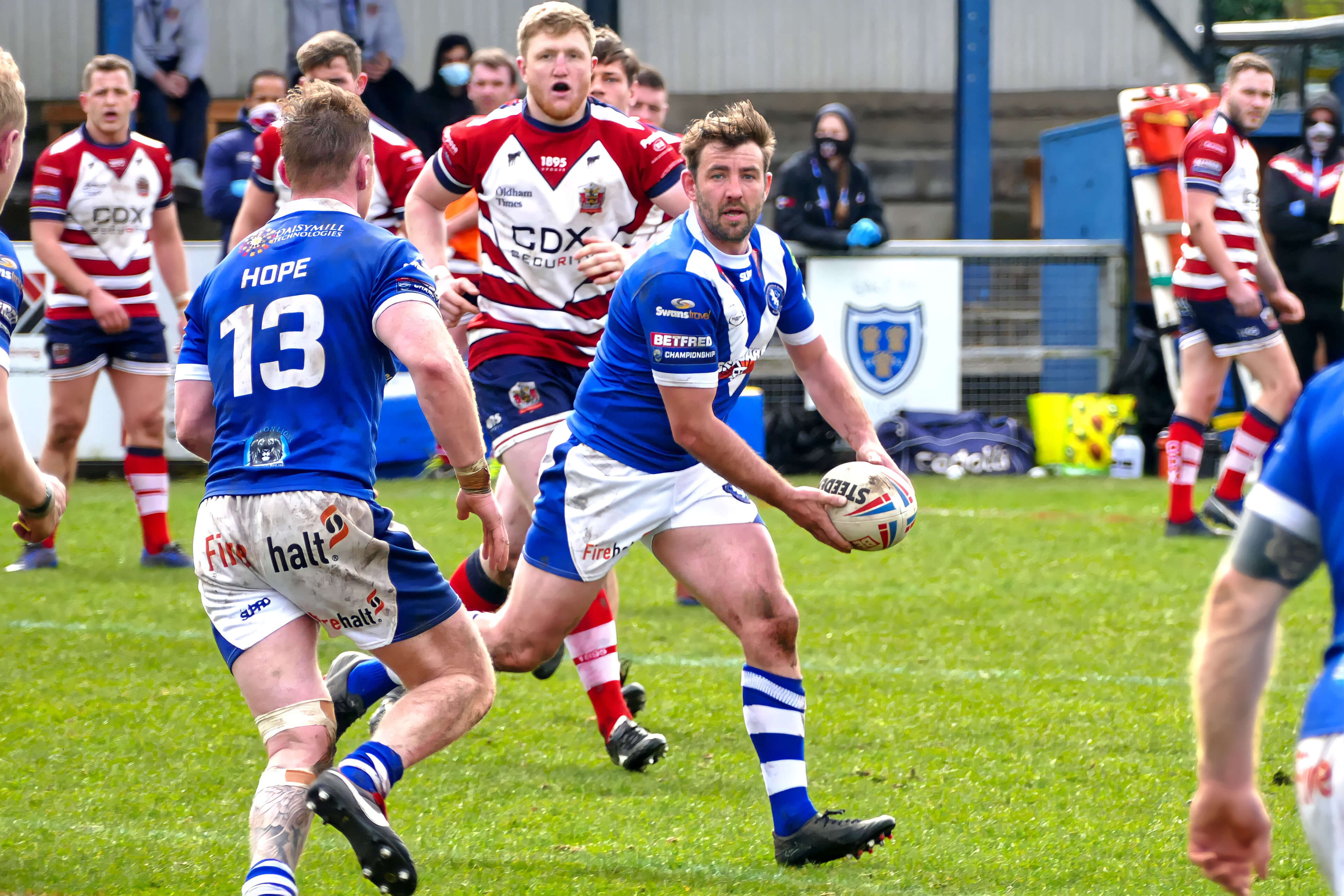 Every member of head coach Stu Littler's staff has had an input into the appointments of Ridyard and Nelmes.
Said Littler:
"Sport, like life, is all about opinions, but across pre-season these two have shown themselves to be leaders and they will head a leadership group of four. Deep discussion about the other two is currently going on and this weekend we'll have a big team-building exercise, which will also be relevant to the formation of the group."
Speaking more specifically about Ridyard, he added:
"Martyn and I go back a long way, but I stress he is NOT club captain just because he is a good mate of mine.

"He is captain because he ticks all the boxes. Even we are surprised to find this is his first club captaincy. As a natural leader, a clever tactician, hugely experienced, cool under pressure and a good bloke whom the younger lads will go to with questions, his selection as captain was an absolute no-brainer.

"On top of all that, he knows the game inside out and he knows exactly how I want us to play.

"In training, he's pushing himself and the others all the time and he's always striving to be a better player himself. Irrespective of whether he was captain, or not, he would be leading the team around. Providing his form and fitness are up to par – that's a given for everybody – he will be on the pitch all the time.

"As one of the 'middles', Nelmsey will inevitably be spelled, but he knows that; it's part of the modern game. In my time at the club, he's shown himself, like Martyn, to be a natural leader.

"As a person, he's matured a lot and he is totally selfless in always putting the club first. He trains hard, is proud to be an Oldham player and he is all for the squad and the club, ahead of everything else.

"These are not just my decisions or mine and Brendan's. We've involved every member of the staff and I'm totally confident that Martyn as club captain and Luke as vice-captain will set the standards required of them.

"They'll also be key members of the leadership group, which will be formed by players we can always go to for talks if necessary — that's just not Brendan and myself, but the whole club."
Ridyard said:
"I'm at the stage of my career now when I should be leading by example anyway. Nevertheless, it's good to have the job and I'm excited by it. I just hope I can do the job justice.

"I certainly have the right environment thanks to the superb job done by Stu and Brendan during pre-season. We have no cliques, no egos. We are a group and we are as one, and that's especially creditable for the job done by Stu and Brendan, given that most of the lads are at the club for the first time.

"When I first turned up for training, I didn't know a single player and I wasn't on my own. It wasn't entirely a bad thing because it put everyone on their toes, but the main thing that has turned us ALL into good mates has been the way Stu and Brendan have gone about things.

"At first it was only natural that we had two groups - the Lancy lads and the Yorkshire lads. But they've brought us together as one and the bonding has been remarkable. We still have the inter-county banter, but it's all friendly fun and everything is looking good."
In two spells at Leigh, Ridyard played in 250 games, scoring 80 tries, 838 goals and 12 drop goals for more than 2,000 points.
He won the Ton Bergin Trophy as man of the match in the 2004 Championship Final and later received the Kingston Press player of the year award.
Prop Nelmes, one of only seven members of the 2021 squad who is still here, will also take on the vice-captaincy role as a first after playing for Halifax, Dewsbury and Oldham.
He said:
"I'm delighted and honoured to accept the invitation. I hope I can be a big help to Martyn and set a good example.

"I'm one of the few players who are still here from last year, so that might have had something to do with the decision.

"I will do my utmost to make a success of the job. The very thought of being vice-captain excites me.

"We are all looking forward to our first run-out against Wakefield. It will be a good test no matter what sort of a side they put out, but we are hoping they will field a few Super League lads.

"After that, we are straight into the Challenge Cup against Lock Lane or Thatto Heath and that will also be a tough challenge, irrespective of who we play.

"I can promise fans, though, that we will give them all the respect they deserve and prepare for the tie accordingly."