First Match
Our first ever match was the Law Cup match against Rochdale Hornets on New Year's Day.
Despite not having trained much together, the newly-assembled team won 36-16 in front of a fine crowd of 3,097.
Try scorers were Joe McNicholas (2), Adrian Mead, Mike Prescott, Martin Maders and Ian Sinfield with 6 goals by Brian Quinlan.
Trans Pennine Cup Final
On 19th July, the team appeared in the Trans Pennine Cup Final against Batley Bulldogs at Mount Pleasant after winning the West region of the Second Division Championship. Despite losing 28-12 it was a great effort by all concerned in the club's first season.
Forward Graeme Shaw became the first player from the club to play international rugby league when he turned out for Scotland in the Tri-Nations Championship against Ireland and France.
Anniversary Celebrations
On Sunday evening, 13 June, we entertained Rochdale Hornets at Boundary Park in a match billed to be part of the 150th anniversary celebrations of Oldham Borough's municipal status.
In front of a crowd of 3,023, Oldham won 26-18.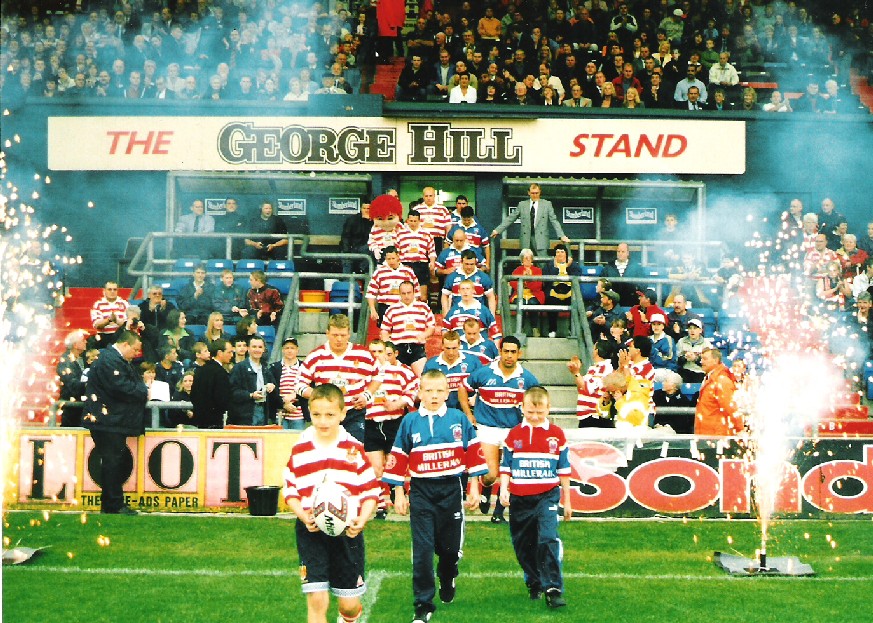 Doncaster and Sydney
In the play-off campaign, the team, under Mike Ford, hinted at what was to come a year later by winning a fantastic match at Doncaster. The tie was level after 80 minutes but a crucial try in extra time by Ford swung the game our way. Defeat was to follow at Leigh in the next round.
In November, a team representing the famous South Sydney club from Australia graced Boundary Park with their presence when taking on Oldham as part of their short three-match Ambassadors Tour. The game finished 14-14.
Super League so close
On Sunday July 22, the team produced perhaps its most amazing comeback win when overturning a 32-14 deficit after an hour's play to beat Rochdale Hornets 39-32 at Spotland and clinch a place in the Northern Ford Premiership Grand Final.
Six days later, Saturday 28 July, we played in the Grand Final, the prize being a place in Super League for 2002. Despite a brave showing by our boys, Widnes Vikings were deserving winners.
Hurst Cross
Home base was Hurst Cross, home of non-league football club Ashton United.
The most memorable performance was a National League Cup win over Dewsbury Rams when half-back Gareth Barber scored 26 points with a personal haul of 3 tries and 7 goals to become the holder of the most points in a match club record.
Seven Second Try
On 18 May, winger Chris Campbell, now a top referee, scored a try after just SEVEN seconds in our match against Doncaster Dragons at Belle Vue.
A new Social Club was opened in Werneth, providing a base for fans and a venue for post-match refreshments and drinks for players. It was also used for functions such as dinners, quiz nights and team presentation nights.
Bloomfield Road
On 30 May, the Sunday of the Spring Bank Holiday weekend, we played our 'home' game against Batley Bulldogs at Bloomfield Road, home of Blackpool Football Club. This match proved to be the beginning of a long association with the ground for our sport as the Northern Rail Cup Final was held there from 2005 to 2012 and since 2015, the Summer Bash fixtures have been held there also.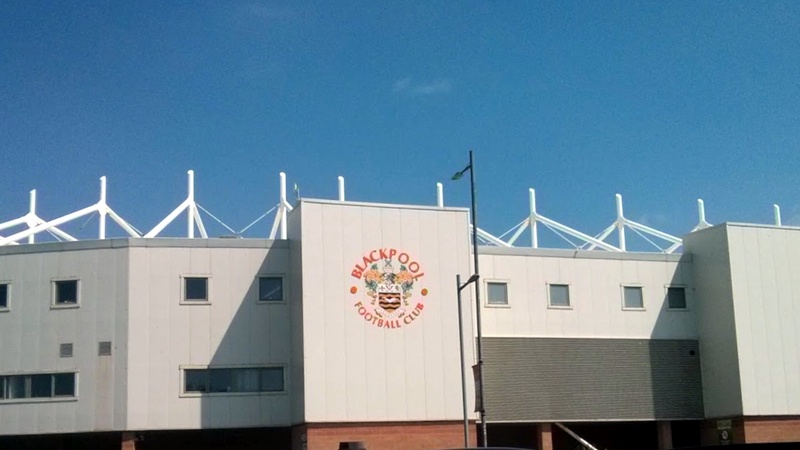 Big Barry and Roger Halstead
In January, we were proud to be asked by Leeds Rhinos Oldham-born forward, Barrie McDermott, to provide the opposition for his testimonial at Headingley.
A late season game against Barrow Raiders at Boundary Park saw a pre-match presentation and guard-of-honour for retiring Oldham Chronicle rugby league reporter Roger Halstead.
Roger had covered the fortunes of the 'old' club from 1964 to its demise in 1997 and our club from its beginnings soon after.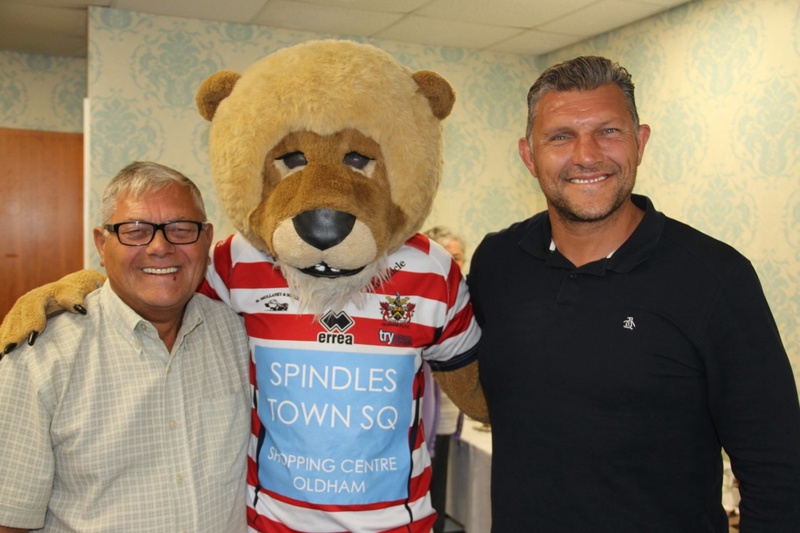 Oldham Derby
An early-season Challenge Cup win over local amateur outfit Saddleworth Rangers, played on a snow-covered surface at Boundary Park, was the highlight of the year.
This match, won 34-10, remains the only time we have played a local amateur outfit in a Challenge Cup tie.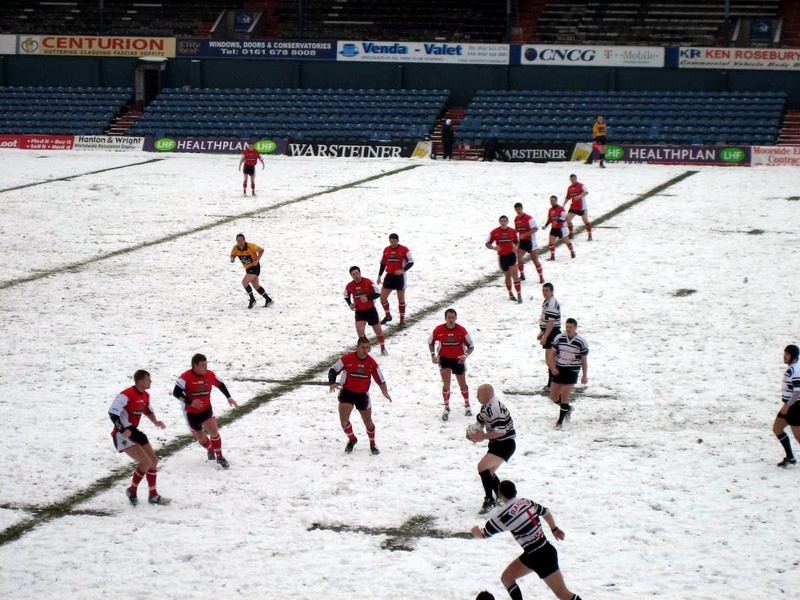 0n 30th September, the team produced one of its best ever performances by convincingly beating Barrow 28-6 at Craven Park in a National League Two Grand Final eliminator.
On a day that will long be remembered by fans who made the trip, a stunning hat-trick by centre Adam Hughes helped push us into the Grand Final a week later.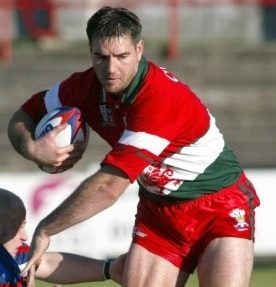 Kevin Sinfield testimonial
We were once again honoured to be asked to provide the opposition for a testimonial match at Headingley – this time by Leeds Rhinos Oldham-born star, Kevin Sinfield.
The Army
For the first, and to date only time, we were drawn to play a team representing one of the Armed Forces in the Challenge Cup, defeating The Army 56-10 in Aldershot.
Pink Kit
On Thursday 17th July, in our home match against Doncaster, we became the first professional rugby league team in the UK to wear an all-pink strip, in aid of cancer charities.
In a match televised live by Sky Sports, we won 36-16.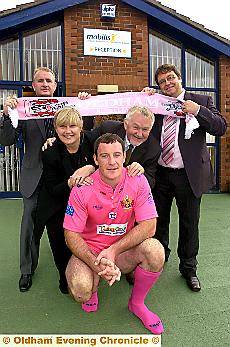 Record points in a game
In August, Gareth Barber's points in a match record was beaten by centre Danny Halliwell who scored 28 with 4 tries and 6 goals in our home win over Workington Town.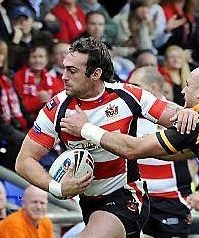 Doncaster disappointment
Another Grand Final reached, the second under coach Steve Deakin, but disappointment again when beaten by a Doncaster side, coached by rugby league legend Ellery Hanley, at the Halliwell Jones Stadium in Warrington.
Centre Mick Nanyn provided us with a World Cup representative when he appeared for Scotland in the tournament held in Australia.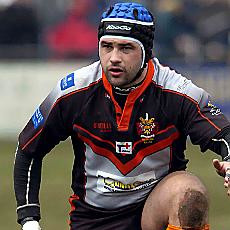 Andy Ballard
In March, winger Andy Ballard broke Halliwell's points in a match record with 30 against Workington Town – ironically the same team Danny had performed his feat against.
In May, Andy produced another points-scoring master-class to smash his own record. He scored 34 –2 tries and 13 goals – in a 78-10 win away to London Skolars.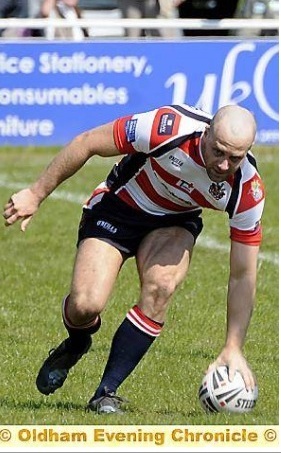 Lezignan in the cup
A Challenge Cup first as the team were drawn to face French opposition for the first time, beating Lezignan 60-30 in a Boundary Park points feast.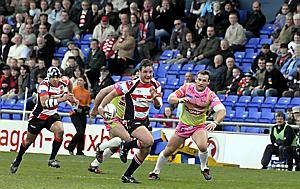 RFL President
Chief Executive Chris Hamilton was awarded the prestigious title of President of the Rugby Football League.
Another Grand Final Defeat
Another play-off away-day classic by the team, smashing York City Knights 44-14 at the Huntington Stadium in the Championship One Grand Final eliminator.
Defeat in the Grand Final once more, however, as Keighley Cougars won 28-26 at the Halliwell Jones Stadium.
Back in Oldham
On Sunday, 9th May, the first ever match was played at Whitebank Stadium. In front of a crowd of 1,110 York City Knights won 34-28. The move was seen as a new dawn for the club after many years of being nomadic—a home base in Oldham had been found.
Semi-final win against York
An encore at Whitebank against York in the play-offs saw us progress to yet another Grand Final with a fine 41-32 victory, in front of a ground record crowd of 1,275.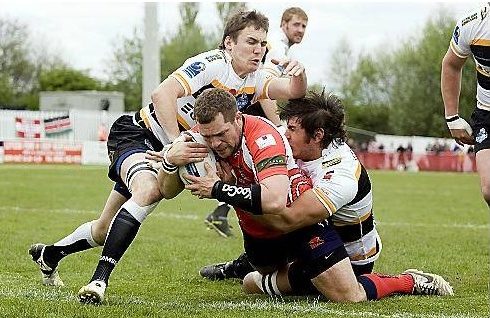 More Grand Final disappointment
More Grand Final disappointment as The City Knights extracted full revenge by winning convincingly.
Head Coach Tony Benson was named as assistant coach of Ireland for the European Cup competition against France, Wales and Scotland.
Champion Reserves
In early January, the first Law Cup match at Whitebank was held with Oldham victorious over neighbours Hornets.
Our reserves team, coached by long-serving club stalwart, John Hough, won the Grand Final against Widnes Vikings 29-24 at Whitebank.
Grand Final defeat
Our reserve team, now coached by Paul Ashton, reached its second consecutive Grand Final, but lost to Featherstone Rovers.
Another trip to the Grand Final
Our record appearance maker and try scorer, Neil Roden, played 6 times this year to bring the curtain down on his superb Roughyeds playing career.
In the Grand Final eliminator, London Skolars were beaten 64-8 at Whitebank to ensure the team qualified for another Grand Final, its fifth in seven years.
Golden Point heartbreak
In March, freakish weather caused the abandonment after 72 minutes of our match against South Wales Scorpions in Maesteg.
Twice beat eventual Grand Final winners Hunslet Hawks by one point – 24-23 in the league at Whitebank in July and 25-24 in the play-offs at the South Leeds Stadium in September.
Another Grand Final eliminator performance to remember, winning 31-12 at York City Knights.
But another Grand Final loss, this time losing to Hunslet by one point, 17-16, in golden-point extra time.
Roden Testimonial
Neil Roden held his testimonial match at Whitebank in February, a Legends side taking on a Select team.
Palfrey equals record points tally
On 9th August, captain Lewis Palfrey equalled the points in a match record jointly held by Andy Ballard and Chris Baines with 34 – 3 tries and 11 goals – in a 70-6 victory romp at Hemel Stags.
League Leaders' Shield
Saturday, 12th September saw us lift the League One League Leaders Shield with an emphatic 76-12 victory at Oxford.
This was the team's 13th successive league win that began with a home victory over the same opposition on 14th June.
Promotion at last
20th September saw coach Scott Naylor achieve his goal of earning promotion from League One, secured courtesy of a memorable 31-20 win over Keighley Cougars at Whitebank in the Promotion Final.
Cup win at Hull KR
On Saturday, 16th April we turned the rugby league form book upside down by winning 36-22 at Super League club Hull Kingston Rovers in the fifth round of the Challenge Cup.
Try scorers were Will Hope, Richard Lepori (2), Steve Roper, Adam Clay and Gary Middlehurst with Palfrey kicking 6 goals.
Win over Whitehaven
A 20-18 victory over Whitehaven at Bower Fold in Stalybridge – the club's temporary home - secured Championship survival after a gruelling league programme of 23 games and 7 more in the end of season Eights.
Beating Bradford with a wonder try
In April, a huge win against Bradford Bulls was achieved – our first ever against the former World Club Champions – with a stunning and memorable last-gasp match-winning try by on-loan centre Kieran Gill.
Trip to Toulouse
A week later we played our first ever match in the south of France, losing to a strong Toulouse Olympique outfit.
World Cup squads
6 players who had worn the Oldham jersey were named in World Cup squads – Richard Lepori (Italy), Phil Joseph, Joe Burke and Ben Morris (Wales) and Will Hope and Oliver Roberts (Ireland) for the tournament held in the Southern Hemisphere.
Anniversary Dinner
In November 2017 the Oldham club held an anniversary dinner at the Queen Elizabeth Hall in Oldham to celebrate 20 seasons of the re-formed club.
Boxer Anthony Crolla was the special guest on the evening.
Return to Whitebank
After two years playing at Bower Fold, the team returned to a re-developed Whitebank – the newly named Vestacare Stadium – for home games.